EC desperate call on the European Central bank to maintain financial stability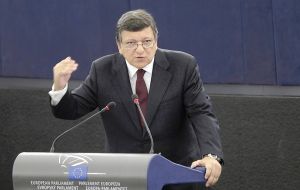 European Commission President Jose Manuel Barroso urged the European Central Bank to do everything in its power to maintain financial stability in the Euro zone, saying the EU faced the biggest challenge in its 50-year history.
Delivering his annual "State of the Union" speech to the European Parliament, Barroso set out a range of steps the Euro zone needed to get on top of its 20-month debt crisis, including rapid approval of an agreement struck on July 21 to bolster the EFSF (European Financial Stability Facility) bailout fund and help recapitalise banks.
He suggested the Commission was also looking at ways to increase the firepower of the fund, possibly via some form of leverage, seen by markets as vital if it is to offer protection to large states such as Italy and Spain.
In a signal that in the short term the ECB, with its unlimited access to liquidity, may be the only European institution capable of staving off the pressure on weaker Euro zone states, Barroso called on the central bank to step up.
"We trust that the European Central Bank - in full respect of the (EU) treaty - will do whatever is necessary to ensure the integrity of the Euro area and to ensure its financial stability," he said.
A number of ECB policymakers are unhappy at shouldering a burden they believe is one for governments and Germany's Juergen Stark resigned earlier this month with sources saying his opposition to the ECB's decision to reactivate its bond-buying programme to protect Italy and Spain was his reason for leaving.
At the same time, the Euro zone's 17 member states must sign off on the July 21 deal, which will make the EFSF more flexible and nimble, and accelerate the introduction of the permanent crisis resolution mechanism, the ESM, he said.
The ESM is scheduled to come into force in July 2013 but Germany and others are keen to bring forward its introduction, possibly by one year.
"The EFSF must immediately be made both stronger and more flexible ... Only then will it be able to deploy precautionary intervention, intervene to support the recapitalisation of banks, and intervene in the secondary markets to help avoid contagion," he said.
"Once the EFSF is ratified, we should make the most efficient use of its financial envelope. The Commission is working on options to this end."