US will vote against loans to Argentina in World Bank and IDB
Thursday, September 29th 2011 - 00:12 UTC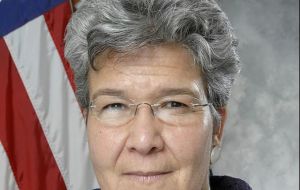 The US State Department said on Wednesday that Argentina must normalize relations with creditors. The statement follows an announcement last week from the Treasury Department warning that the US will vote against granting loans to Argentina in multilateral organizations.
"As a government we have encouraged Argentina to settle its pending issues" in the international disputes centre from the World Bank (ICSID, International Centre for Settlement of Investment Disputes) so as "to take the necessary measures to normalize totally and definitively its relations with creditors", said State Department spokesperson Victoria Nuland.
Given Argentina's attitude contrary "to honour debts with creditors and to work with international institutions", United States will vote against extending World Bank and Inter American Development Bank credits to that country, announced last week a high official from the Treasury Department during a congressional hearing.
Likewise Jose W. Fernandez, State Department Assistant Secretary for Economic, Energy and Business did not discard further initiatives from Washington against Argentina if the country does not comply with its international commitments.
"US diplomacy will take into account international fulfilments when discussing new cooperation or assistance programs", said Fernandez.
Argentina cancelled most of its pending debt with foreign investors since the 2001 default, but still has arrears totalling 6.1 billion dollars.
US members of Congress and creditors have requested the administration of President Barack Obama to put more pressure so that Argentina complies with all pending debts.
"We consider the stance of Argentina particularly concerning since the country's per capita income belongs to the group of mid-income countries", said before the US Congress Marisa Lago Assistant Deputy Treasury Secretary for international markets.
Ms Lago revealed that last September 14, the US with its 30% stock in the Inter American Development Bank voted against granting Argentina a 230 million dollars loan.
Nevertheless the loan was approved but the vote "sends a clear message that the US is concerned with Argentina's attitude".
Lago anticipated the US "will continue to vote negatively, and will discuss with other creditors that share our concern and want to send the message that we sustain ICSID rulings and countries must honour their international obligations".
Fernandez revealed that the State and Treasury departments feel particularly frustrated with Argentine refusal to comply with the ICSID. Two US companies Azurix and Blueridge have favourable rulings involving several hundreds of millions of dollars "but have yet to be paid".
Houston based Azurix Corp., which specializes in water services and investment received a 30-year concession from Argentina in 1999 and is owed 235 million, including interest, for breach-of-contract, according to its president, Rod Castillo.
Together with members of Congress they are demanding that the US Trade Office cancels all trade benefits awarded to Argentina under the General Preferences System.
While the US alone can't prevent the Washington-based institutions from making the loans, the move is the strongest to date against President Cristina Fernandez, who polls show will win a second, four- year term in elections next month.
It also responds to concerns of some US lawmakers as Treasury asks Congress for 3.4 billion dollars in foreign aid next year, including 357 million dollars in additional capital for development banks.
"This is a very strong signal on the part of the US that they are very unhappy with Argentina," said Claudio Loser, an Argentine economist who oversaw Latin America at the IMF from 1994 to 2002. It "will be seen positively in Congress."
Argentina, which has been locked out of international debt markets since its record 2001 default is counting on about 15 billion pesos (3.6 billion dollars) of loans from international lenders in its draft 2012 budget, being taken up by Congress this week.
The IDB granted Argentina 1.2 billion of loans last year. That compares with 2.2 billion in the fiscal year ended June 30 from the World Bank.
Loans pending approval at the IDB this year include 300 million to improve road infrastructure in the north of the country and 250 million for water and sanitation in the Buenos Aires metropolitan area.
Argentine Finance Secretary Hernan Lorenzino has said holders of 4 billion dollars in defaulted debt are "vulture funds" pursuing litigation against the country, which he said has made a good-faith effort to address the default in two restructurings.
The U.S. might find allies in other Paris club members that are losing patience with Argentina, said Loser, who estimates Argentina can't afford to lose the funding. Paris Club nations include Germany and Japan.
Guillermo Nielsen, a former Argentine finance secretary who oversaw the country's defaulted debt restructuring in 2005, said other Group of Seven countries might follow the US lead.
"This is neither pleasant, nor constructive," Nielsen, now a consultant, said in an interview yesterday. "It will need to be resolved, it's not something that goes unnoticed or that you can remain indifferent to."