Shakira ex-boy friend has found a new love in Miss Colombia (with panties)
Friday, September 30th 2011 - 19:49 UTC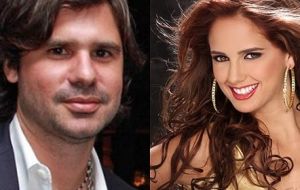 Shakira's former boyfriend and manager is no longer a member of the lonely hearts club, but has kept faithful to the Colombian blend: Antonio De la Rúa's new couple is none less than a former Miss Colombia.
Gossip magazines and Scandal TV caught Daniela Ramos and Antonio passionately kissing besides a pool, quite distant and unaware of the soccer world where Shakira (34) has now established her new roots next to Gerard Piqué, 24, Spain and Barcelona's team full back, known for his stiff dominance of the penalty area.
Daniela besides having been successful at Colombia's 2009 beauty pageant is also a renowned DJ who travels on contract to discos in the United States and Europe, particularly Spain, where she is famous as DJ Layela.
Colombia, the land of orchids and spectacular women also has a long tradition of outstanding performance in international beauty pageants, the last of which in Sao Paulo. But alas, thie time the promising Colombian candidate Catalina Robayo saw her chances shattered when she was reprimanded for cat walking sans panties.
She vehemently denied the claims and it was later admitted that the Brazilian bikinis (tangas) contracted for the Sao Paulo pageant had in effect too tight and exposed bottoms.
But back to the new romance, according to Scandal TV the couple first met last September when Daniela went to a Shakira rock concert and went to the backstage where she was introduced to Antonio (38).
At the time Antonio was Shakira's official boyfriend and manager so it was all very formal. However Antonio was very impressed with the Colombian beauty queen allure and good humour, so after breaking with the pop star, he begun trying to contact Daniela (24).
It all begun with e-mails and twitter messages until they met in January and began dating with romance leapfrogging.
Orlando Segura from Scandal TV reveals that it was last June while visiting Ibiza in Spain that Daniela finally accepted to formalize the relation. Antonio took Daniela to meet his parents, former Argentine president Fernando De la Rúa in Buenos Aires and a few weeks later the 'porteñito' fiancé was introduced to the Colombian family.
Not only that, Daniela took Antonio for a tour of Colombia and all its secrets.