World Travel Market 2011 will have a strong Olympics tourism emphasis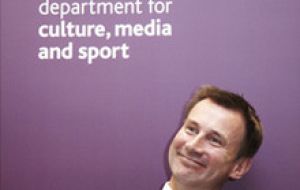 UK Olympics Minister Jeremy Hunt will open World Travel Market (WTM) 2011, the leading global event for the travel industry – the final WTM before the 2012 London games.
WTM 2011 will have a strong sports tourism theme as the event examines the potential of sports tourism with the London Olympics' impact on the UK tourism industry a key focus.
Hunt - MP for South West Surrey and Secretary of State for Culture, Olympics, Media and Sport – will discuss the UK government's tourism plans for the Olympics and how it will create a legacy for not just London but the whole of the UK.
Tourism contributes £115 billion each year to the UK economy, with the UK government believing it has the potential to be one of the fastest-growing sectors in the years ahead.
Speaking last week at the launch of the UK government's GREAT campaign – which aims to generate at least £1 billion in Olympic and attract four million extra visitors – Hunt said: "The GREAT campaign will ensure that we make the most of London 2012 to boost tourism and business, leaving a lasting economic legacy from London's Games."
He will be joined a high-profile sporting guest.
The Opening Ceremony is the first of many sessions at WTM 2011 looking at the potential of the Olympics and sports tourism.
There is a full Sports Tourism program, sponsored by Euro-sport, throughout the four days including in afternoon the opening day of WTM entitled Game Plan - A 21st Century Sports Tourism Strategy, hosted by former Olympic middle and long-distance runner David Moorcroft.
The panel will include Katarzyna Sobierajska, Deputy Minister of Sport and Tourism for Poland. She will discuss how its tourism sector plans to capitalize on co-hosting the Euro 2012 football tournament.
London 2012 will also be covered in a number of sessions, including The Olympic Games and Tourism Seminar: Hosting the World – The UK Plans for 2012, which will look at the UK industry's hopes and expectations for the event.
Furthermore, "The Future of Sports Tourism" will be discussed on Wednesday, November 9 at 1430 hours in Platinum Suite 3. Graham Boynton, Group Travel Editor of Telegraph Media Group, and Charles Starmer-Smith - Managing Editor Travel will focus on escorted Sports Tourism, popular for international cricket, rugby, and football events.
The two editors will be joined by two sporting greats who have hosted large groups of travelling sports fans. Rugby player Lawrence Dallaglio and cricketer Allan Lamb will offer views on how travel companies can ensure the trips live up to expectation.
Reed Travel Exhibitions Chairman World Travel Market Fiona Jeffery said: "I'm delighted to be able to announced Olympics Minister Jeremy Hunt as the opening speaker for WTM 2011.
"The minister's involvement in WTM demonstrates both the role travel and tourism will play in the success of the games and the importance of WTM to the sector". Source: wtmlondon.com