Achieving investment grade is "not critical" for Uruguay, says Economy minister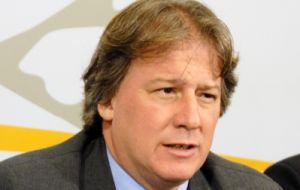 Achieving investment grade in the current global scenario is "not critical" for Uruguay since the country has sufficient financing and operates in world markets as "if it had a better rating than it actually has", said Economy minister Fernando Lorenzo.
During an event organized by the World Trade Center Free Zone and Bloomberg, Lorenzo said that the direct incidence in Uruguay of the global crisis so far "is scarce" but clearly uncertainty regarding events in Europe and how they are finally addressed are going to be "relevant".
Therefore 'prudence' since the horizon remains turbulent and because there is no such thing as an absolute insurance, much less for all risks, added Lorenzo.
Nevertheless Uruguay needs to have adequate levels of liquidity and sovereign financing until the worst of the storm moves on, but in the current scenario "having investment grade is not a critical factor because we already have the necessary financial support for the next 18 months and we have access to money markets as if we had a higher qualification than we really have".
Having investment grade as Uruguay had from 1995 to 2002, (when the contagion from Argentina's collapse and default) would allow Uruguay to have access to credit at lower rates and a good signal for investors. Currently Uruguay is one notch below investment grade according to Moody's, Standard & Poors and Fitch.
However Minister Lorenzo said that the rating agencies commit a mistake regarding Uruguay since they 'underestimate the advances in the economy and socially' of recent years which have consolidated sustained growth.
But Mauro Leos Moody's senior analyst pointed out that even when Uruguay has effectively achieved great advances which can mitigate deficiencies, vulnerabilities subsist such as the size of the country, (a drought could have an overall impact something that would not happen in Brazil), debt and the financial system still heavily nominated in US dollars and exposure to the ups and downs of commodities' prices.
Leos admitted that the high dollarization of the Uruguayan economy is a potential source of problems because of the currency mismatch but is has been consistently dropping as GDP percentage and "currently would not be an argument for not upgrading to investment grade".
Lorenzo went further and replied that dollarization, mismatch currency and vulnerability are exacerbated particularly since external shocks seem to be analyzed by the rating agencies based on a fixed exchange rate and "forget precisely the options offered by a flexible foreign exchange rate as is the case of Uruguay.
Besides regarding commodities, "they (rating agencies) seem to forget that a third of Uruguay's exports are services".
"Markets not always get it right but credit rating agencies neither", underlined the Uruguayan official.
Finally Lorenzo admitted that one of the main concerns is a possible outbreak of protectionism in the industrialized countries since in a "general recession" situation, 'trade would suffer a greater impact than it did in 2008'.
Leos revealed that at the end of the year a Moody's delegation would be arriving in Uruguay for an assessment of the local economy, to update and prepare a new report. "Anything is possible".