Denmark taxes food with more than 2.3% of saturated fat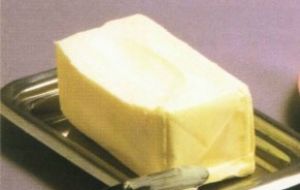 In a bid to encourage healthier eating among its citizens, Denmark has introduced a tax on foods containing more than 2.3% saturated fat. As from last Saturday, all such products in Denmark now carry a tax to the tune of 16 Danish krone (2.86 dollars) per kilogram of saturated fat that goes into making them.
Ole Linnet Juul, food director at Denmark's Confederation of Industries said the tax will raise the price of a small pack of butter by around 39 US cents and the price of a burger by 14 US cents.
Denmark is thought to be the first country in the world to bring in a tax on fatty foods. Like some other European nations, it already taxes sugar, chocolates and soft drinks.
A large majority in the Danish parliament voted in favor of the tax last March as a measure to help increase the average life expectancy of Danes by three years over the next decade.
Life expectancy in Denmark is much lower than in other Scandinavian countries, according to a 2005 OECD report that estimates life expectancy among Danes to be 77.2 years, which is 1.6 years below the OECD average of 77.8.
Jakob Axel Nielsen who was conservative Minister for Health and Prevention from November 2007 to February 2010, introduced the idea of a tax on saturated fats in 2009, because they contribute to cancer and cardiovascular diseases. He told the press.
"Higher fees on sugar, fat and tobacco are an important step on the way toward a higher average life expectancy in Denmark".
The tax affects products like cooking oils, milk and pre-cooked foods like pizzas.
Dr. Jorgen Dejgard Jensen, from Copenhagen University and whose institute first proposed the idea of the tax, said that "there's never been a tax on fats like this".
"We will gain some very useful insights during the next year or two about whether it is changing consumption patterns, and also regarding the feasibility of implementing such a tax," he said, according to a GlobalPost report.
Danish industry is pressing politicians to simplify the new tax, which is not calculated according to how much saturated fat is in the end product but according to how much is used in making the product, which they say adds unnecessary costs to companies.
The tax is expected to raise about 2.2bn Danish krone (400m dollars) and cut saturated fat consumption by close to 10%, and that of butter by 15%.
However, while life expectancy may be a problem, obesity among Danes is below 10%, well below the European average of 15%.
Meanwhile in the UK, where obesity rates are the highest in Europe (OECD figures show 1 in 4 Britons is obese, with 2 out of 3 men overweight), campaigners are pressing the government to follow the Danish lead.
Tam Fry, spokesman for the National Obesity Forum, said it was not a question of whether the UK should follow Denmark's lead, it has to. 70% of Britons are destined to be overweight by 2050, he said, and "if we don't anything about it ... [it will] result not only in the downfall of the NHS but also of our national workforce," he told the Guardian.
Obesity expert Professor Peter Kopelman of the Royal College of Physicians told a BBC Panorama program last November that he thinks there is a clear parallel with taxing cigarettes.
"When cigarettes were taxed, you found that there was an immediate decline in the number bought."
"We also saw that there was a decline in the diseases that complicate cigarette smoking. I think there are lessons to learn for unhealthy food" he added.