Gillnets pushing Maui dolphins towards extinction says marine experts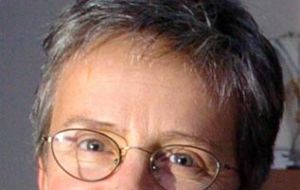 The world's most endangered sea dolphins are sliding towards extinction in the face of damaging fishing methods, experts are warning. Hector's dolphins are found only around New Zealand, where the population has fallen from 30,000 to around 7,000 since nylon fishing nets came into use in the 1970s, a conference on marine bio-diversity in Aberdeen will hear on Thursday.
The country's North Island population, a subspecies known as Maui's dolphins, is down to fewer than 100 mammals, according to Dr Barbara Maas, head of endangered species conservation for German environmental group NABU International – Foundation for Nature.
Research by Dr Liz Slooten, from Otago University in New Zealand, suggests commercial fishing gear known as gillnets, which create a wall of netting to catch fish are drowning 23 Hector's dolphins a year on the east coast of the South Island.
She said the sustainable limit for the area was about one dolphin a year, and at the levels currently seen the population would fall by at least a further 14% by 2050.
Maas, who has worked to protect the species for more than a decade including for the New Zealand Department of Conservation, will warn the conference that gillnets are only part of the problem.
Other fishing methods which had not been included in the calculations are also killing Hector's dolphins, including the recreational use of gillnets, along with pollution, boat strikes and marine mining.
Trawl nets, which are pulled through the water from boats, were likely to kill as many endangered Hector's dolphins as commercial gillnets, bringing the number of deaths due to fisheries to 46 along the east coast, she warns.
"An annual loss of this size will wipe out 62% of the population by 2050. Only a scattering of animals will survive, potentially pushing the population beyond the point of no return."
She said that "absolute protection against commercial and recreational gill-netting and trawling is the only way to prevent their demise".
Dr Maas, who is speaking at the international marine conference organized by the Universities of Aberdeen and St Andrews, is urging the New Zealand government not to bow to industry pressure and to ban the fishing methods in waters up to 100m deep to save the species.
She suggests more selective fishing methods, such as hook and line fishing, or fish traps, which do not catch dolphins, could be used instead.