Overly restrictive fiscal measures unlikely to solve EU crisis, warns Rousseff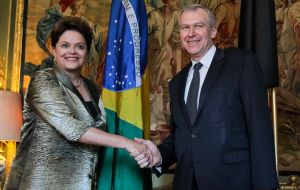 Overly restrictive fiscal measures are unlikely to solve the European Union's debt crisis, Brazilian President Dilma Rousseff said on Monday in Brussels in the sidelines of the V strategic meeting between the European Union and Brazil.
"In our case extremely restrictive fiscal measures only deepened the process of stagnation and loss of opportunity," Rousseff, referring to Latin America's 1980s debt crisis, told journalists at the end of a meeting with her Belgian Prime Minister Yves Leterme
"It is difficult to exit crisis without increasing consumption and growth," she said.
Rousseff and senior Brazilian ministers are scheduled to meet with EU leaders on Tuesday to discuss responses to the EU debt crisis as well as joint trade, energy and investment projects.
"Brazil will do everything necessary to diminish any possible impact of the crisis on its domestic economy," Rousseff anticipated.
Plans on how to address and try to solve the Euro crisis are the main issues of the meeting of Ms Rousseff with European leaders in anticipation of the coming G20 meeting scheduled for November 3 and 4 in Cannes.
The two heads of state did not discuss a contentious proposal by the EU executive to tax financial transactions such as trading in bonds and shares, PM Leterme told journalists.
That plan was mooted as a central plank of efforts to recoup cash from an industry that cost governments billions of euros during the financial crisis, but faces opposition particularly from Britain.
As confirming President Rousseff' warning on Monday it was announced that the Greek economy, undergoing a tough restrictive package of measures imposed by creditors and multilateral organizations will remain stuck in recession next year.
According to the Greek draft budget sent to Parliament, GDP is seen contracting by 2.5% next year from a 5.5% slump in 2011. These numbers are in line with recent forecasts by the IMF, but much worse than predictions used in July to calculate a second, 109 billion Euro rescue package which anticipated 0.6% growth in 2012, putting an end to three consecutive years of recession.
However, if Greece's international lenders, also known as the "troika", conclude in a report to be issued this month that recession will continue to be worse than predicted, EU officials have suggested that banks that agreed in July to write off 21 percent of the value of their Greek debt holdings may be forced to take deeper losses.
The country's debt is expected to rise to nearly 173% of GDP next year from about 162%t in 2011, the budget draft said. Greek growth is a key factor in determining whether this debt is viable or whether the country will have to default.