Latam's largest airline merger project appeals several anti-trust conditions
Wednesday, October 5th 2011 - 08:08 UTC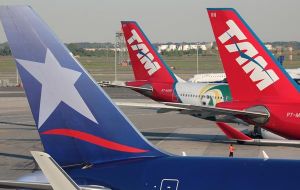 Chile's LAN Airlines and Brazilian carrier TAM have appealed to Chile's top court some of the conditions imposed on their planned merger as the companies push ahead to create one of the world's biggest airlines.
Chile's antitrust tribunal TDLC last month approved LAN's multibillion-dollar takeover of TAM but imposed 11 conditions on the deal.
The airlines said on Tuesday they have appealed three of the conditions to the Supreme Court but still expect the merger to be completed by the end of the 2012 first quarter.
On Monday, small Chilean rival PAL said it had appealed TDLC approval of the takeover to the same court.
Legal experts say the appeals by PAL, LAN and TAM do not block the merger process, and analysts expect the deal to go through.
"Although the mitigation measures are broadly in line with those LAN and TAM were willing to accept in the consultation process, the companies consider that three of the measures are illegal and unconstitutional in certain aspects, and they have resolved to appeal these measures before the Supreme Court of Chile," LAN and TAM said in a joint statement.
The measures appealed relate to code-share agreements, obligations to give up some flights via Lima to other cities, and surveillance requirements.
LAN said last month the ruling by the TDLC, which imposed the conditions, was flawed and requested that the tribunal rectify its tariff calculations, but the regulator on Tuesday rejected the request, saying it had based them on information given by LAN.
The Supreme Court must decide whether to accept PAL appeal, which could take up to two weeks. If it did hear the objection, it could take up to five months to issue a ruling.
PAL statement was released after the market closed on Monday. LAN and TAM joint statement came out before the market opened on Tuesday. Both appeals stung LAN shares, according to analysts.
"The market is overreacting," said Ramon Lagos, an analyst with Banco Penta in Santiago. He said fears of a global economic slowdown were also hitting shares.
"In general, the situation is pretty clear ... The merger will happen," Lagos said.
LAN and TAM said they did not expect the conditions imposed on the merger would cost more than 10 million dollars out of expected synergies, and vowed to push ahead with the tie-up while awaiting a Supreme Court ruling.
The merger would create an airline with annual revenue of 10.4 billion dollars, based on 2010 figures. When the merger plan was announced last August, the all-stock transaction was worth an estimated 2.7 billion.
In Brazil, the deal to create the new LATAM Airlines Group has already cleared two of three anti-monopoly hurdles and is awaiting approval from the antitrust council.