Operation Fire Wall: IMF will also chip in funds to protect Spain and Italy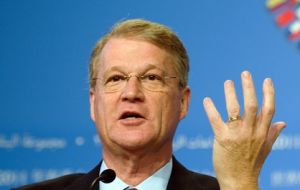 The International Monetary Fund could buy Spanish or Italian bonds alongside the Euro zone bailout fund if needed, to help boost investor confidence in those countries, the IMF Europe head Antonio Borges said on Wednesday.
"Maybe even the IMF could invest alongside the European Financial Stability Facility (EFSF). We would certainly be ready to play that role," Borges told a news conference.
"Any investment we would make in Spain or Italy would be based on full confidence that these countries are on the right track – that they are solvent and they are taking all the measures they should," he said.
"Because the EFSF now has the ability to invest in secondary markets, we could invest alongside them supporting the debt markets in Italy and Spain with an additional element of credibility," he said.
Borges said that while this was still in the realms of the hypothetical, such action could be taken in exceptional circumstances and had been done before. We are just offering the possibility," he said.
Asked how quickly the IMF start buying Spanish and Italian bonds could, Borges said: "we are first waiting for the ratification of the EFSF and then for some clarity on how they want to move ahead. We are offering to be cooperative and work alongside them if necessary, as soon as possible, but these things do take time".
"The most important thing, in our view, is that as soon as the authorities know how to use the EFSF, if that is clearly communicated to the market, it can have a very important stabilising effect."
The main option for the IMF was to extend a precautionary credit line to Spanish and Italian governments, also alongside the EFSF, which is likely to get such powers, along with the remit to intervene in the bond markets, by the end of next week when all euro zone national parliaments should have ratified them.
But the IMF could go further and invest directly in Spanish and Italian bonds, although to do that it would have to create a Special Purpose Vehicle, Borges said.
"We can also create our own special purpose vehicles, all of those options are possible, some of them have been used in the past, it is not a particular innovation, it would be feasible," he said.
He stressed however, the instruments at the IMF disposal in the case of Italy and Spain were different than in the case of Greece or Portugal.
"We are not talking about a programme like the Greek program or the Portuguese program, because Italy and Spain are not in that situation," he said.
"These are countries that are basically solvent, where the main problem is one of credibility," he said. "These economies ... should normally have access to markets and the difficulties they are having today are because of the high degree of risk aversion".
Therefore any initiative from EFSF or the IMF has to have as "first priority restoring confidence in these countries".