Chile purchases UAV from Israel for border control of contraband and drugs
Thursday, October 6th 2011 - 20:25 UTC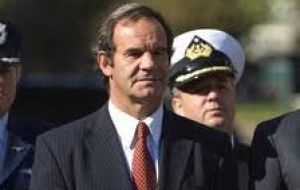 Chile confirmed it had purchased Israeli manufactured Unmanned Aerial Vehicles (UAV) which will be used for border surveying to control contraband and drugs. However the UAV won't be operational for at least another two years.
Defence minister Andres Allemand said that he had met with representatives from Elbit Systems during his recent visit to Israel and Norway.
"Yes, I met with them, they made a presentation, but these things are normal in friendly countries such as Norway and Israel", said Allemand.
Asked if they were to be displayed in the northern frontier with Bolivia and Peru, the minister said that "the UAV won't be operational for at least two years".
He also refused to disclose how many UAV the Defence ministry had purchased.
In a release when Minister Allemand left for the Israel, Defence reported that Chile was interested in the experience and training of borders control and vigilance to non conventional threats".
"This is geared to contribute mainly in the control of contraband, illegal immigration and narcotics trade in the north of the country", added the release.
Ruling coalition Senator Hernan Larrain and member of the Defence Commission said that the UAV are an instrument "to protect our borders but also to combat the drugs trade".
He added "we know drugs are elaborated in neighbouring countries and much of those shipments cross Chile".
Senator Larrain added that according to his information, the purchase also includes manned aircraft which are specifically equipped "for that special kind of tracking needed along border areas".
According to the latest report from the UN Office on Drugs and Crime, Peru and Bolivia, Chile's northern neighbours rank second and third in the list of main world producers of cocaine behind Colombia.