ECB takes the first step of an anticipated major effort to bolster EU banks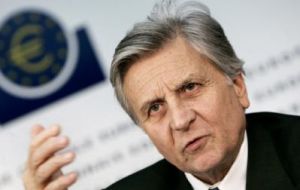 The European Central Bank is offering new emergency loans to banks to help steady the Euro zone's financial crisis. The new funding, worth about 40bn Euros would enable banks to draw down one-year loans.
Speaking at a news conference Thursday in Berlin, ECB President Jean-Claude Trichet urged "banks to do all that is necessary to reinforce balance sheets" where needed.
"The situation of the banking sector calls for particular attention," the ECB head said.
Earlier, the ECB left Euro zone interest rates unchanged at 1.5% as inflation was likely to stay "elevated". It is the third month in a row that the ECB has left interest rates unchanged, after being raised from 1.25% in July.
Euro zone inflation jumped to 3% last month, well above the ECB 2% target.
"The economic outlook remains subject to particularly high uncertainty and intensified downside risks" said Trichet".
A very thorough analysis of all incoming data and developments over the period ahead is warranted," he said. Last month, Trichet merely said the risks to the economic outlook were "on the downside."
The ECB Berlin meeting was Trichet's last before he hands over to Mario Draghi, currently Italy's central bank governor. Draghi will take charge next month.
Analysts said the decision to hold rates was a surprise. Some economists had expected the bank's 23-member governing council to cut rates because of signs of slowing growth in the Euro zone economy.
The Euro initially weakened after the rate decision was announced, but then rallied against the US dollar.
There is increasing expectation in the financial markets that Euro zone leaders are close to announcing an action plan to bolster the banking system.
German Chancellor Angela Merkel said on Wednesday she was in favour of a co-ordinated recapitalisation of European banks if that was deemed necessary.
Recent proposals to resolve the debt crisis have included the idea of turning the European Financial Stability Facility (EFSF) into a bank that can tap the ECB for funds.