Renault-Nissan plans to double production and market share in Brazil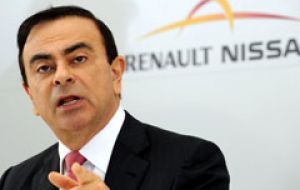 French automaker Renault will invest 285 million dollars to expand its factory in Brazil and boost production as part of a sales offensive in Latin America's largest economy, Chief Executive Carlos Ghosn announced on Wednesday.
Ghosn is in Brazil to launch a major expansion of the Renault-Nissan Motor Co Ltd partnership's production that it hopes will double its share of vehicle sales in Brazil to 13% by 2016.
The new investment at the Renault plant in the southern state of Parana will boost production capacity there to 380,000 vehicles per year by 2013, Ghosn said at a news conference in the city of Curitiba. The plant currently has a capacity of about 250,000 vehicles.
Renault plans to launch 13 new vehicles in Brazil between 2012 and 2016 and double its dealerships in the country from the present 186 in the coming years, he said. The investments will add 1,000 workers to Renault's current Brazil workforce of 6,000.
In the 2010-2015 product cycle Renault will invest an additional one billion Real (540 million dollars) in Brazil to cover the development, industrialization and launch of the new vehicles, the company said.
The Brazil offensive is the latest leg of the Renault-Nissan partnership's strategy of boosting its sales and raising market share in the BRIC countries: Brazil, Russia, India and China.
Ghosn is expected to announce on Thursday an investment of 1.5 billion dollars to build a new Nissan plant in Rio de Janeiro state to expand the Japanese carmaker's coverage of the Brazilian market.
His aim is to raise Nissan's share of the Brazilian market to 5% by 2016 from 1.5% now. Renault's share is seen rising to 8% from just over 5% now.
Renault has been producing cars at the Parana factory since 1998 and ranks fifth in vehicle sales in the fast-growing and fiercely competitive Brazil market.
The top four producers in Brazil are Italy's Fiat SpA, Germany's Volkswagen AG, General Motors Co and Ford Motor Co.
Brazil is considered the world's fourth most important market for cars, behind China, US and Japan, but its potential is even higher given the still low ratio of car per thousand population.
The Brazilian economy grew a hefty 7.5% last year and the number of middle-class citizens has surged in the past decade, making it crucial to the growth of major carmakers as many developed economies stagnate.
Still, several auto factories in Brazil have begun to scale back production in recent weeks due to high inventories and signs of cooling demand as world uncertainties regarding the US and EU crisis reach the country.