Nobel Peace Prize honours indomitable women and the "Arab Spring"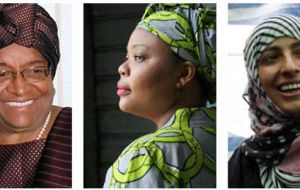 Declaring women's rights vital for world peace, the Nobel Committee awarded its annual Peace Prize today to three indomitable campaigners against war and oppression - a Yemeni and two Liberians, including that country's president.
Ellen Johnson-Sirleaf, Africa's first freely elected female head of state, shared the US$1.5 million with compatriot Leymah Gbowee, who led a "sex strike" among her efforts against Liberia's civil war, and Arab activist Tawakul Karman, who hailed the award as a victory for democracy in Yemen.
"We cannot achieve democracy and lasting peace in the world unless women obtain the same opportunities as men to influence developments at all levels of society," Norwegian Nobel Committee chairman Thorbjoern Jagland told reporters.
Johnson-Sirleaf, 72 and once dubbed the "Iron Lady" by opponents, is running for a second term in an election on Tuesday where she faces criticism for not having done enough to heal the divisions of years of civil war. Jagland dismissed suggestions the award might seem to be meddling in the vote.
But the former Norwegian prime minister said that honouring Yemen's protesters, who unlike those in Egypt, Tunisia and Libya are still battling to get rid of their ruler, sent a signal from Oslo that President Ali Abdullah Saleh, long a US ally, and other Arab autocrats should now step down.
The trio of laureates follows only a dozen other women among 85 men, as well as a number of organizations, to have won the prize over its 110-year history.
The Committee said it hoped the three-way award "will help to bring an end to the suppression of women that still occurs in many countries, and to realize the great potential for democracy and peace that women can represent."
Recognizing Karman, a 32-year-old journalist and mother, who was detained for a time during the unrest, was seen as a gesture of the Norwegian Nobel Committee's wider approval for the Arab Spring protest movements, which had been heavily tipped to win the prize for their young street campaigners.
"In the most trying circumstances, both before and during the Arab Spring, Tawakul Karman has played a leading part in the struggle for women's rights and for democracy and peace in Yemen," the Nobel citation read.
Egyptian activist Asmaa Mahfouz, who had been nominated, said: "Giving it to Yemen means giving it to the Arab Spring, and this is an honor to all of us and to all Arab states."