World Bank calls on Germany to take stronger political leadership in Euro crisis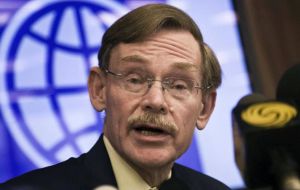 The World Bank has called on Germany to take a stronger political leadership role in Europe in order to end the Euro zone debt crisis.
"When the East bloc collapsed some 20 years ago, Chancellor Helmut Kohl had a vision of how things could develop," World Bank chief Robert Zoellick said in an interview with the Germany economic magazine Wirtschaftswoche.
"There is a total lack of this now, and the longer that continues, the more money it will cost and the fewer options will remain," he added.
Zoellick called on the continent's leaders to provide Europe with political direction as they continue to engage in dialogue.
"The key question is whether people and governments in European want to establish a political and financial union to complement the currency union," he said.
Although German Chancellor Angela Merkel managed to gain the overwhelming support of parliament last month to expand Europe's temporary bailout fund, she faces growing internal divisions within her coalition over European policy.
Elements within economically liberal Free Democrats (FDP) and the conservative Christian Social Union (CSU) have expressed opposition to further bailouts and called for tougher punitive measures for Euro zone nations that violate fiscal discipline.
Merkel is set to meet with French President Nicolas Sarkozy on Sunday to make preparations for the upcoming EU summit and Euro zone meeting on October 17 and 18. On Saturday, Sarkozy met with IMF chief Christine Lagarde in Paris.