Mock referendum in Chile confirms massive support for education reform
Monday, October 10th 2011 - 08:02 UTC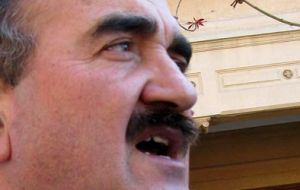 A massive turnout of voters ('hundreds of thousands') responded in support of a non binding plebiscite organized by the Chilean professors union in the midst of the students conflict, one of the most serious challenges faced by any Chilean government since the return of democracy in 1990.
Chilean students, teachers and professors have been demonstrating for months demanding the government provide free, public, quality education for all Chileans and an end to private schools' subsidies. Demonstrations in many cases have ended in violent clashes with the police, with hundreds of arrests, injured and so far one fatality.
However the government of Conservative president Sebastian Piñera rejects philosophically and financially such demands but has held a round of negotiations with student leaders that so far have failed. The government is accused of wanting the spontaneous protest to die out, but the conflict already has five months, polls show an overwhelming support for student demands and there are fears that a whole school year could be lost.
To moderate clashes which have turned ugly and reaffirm public opinion, the professors union organized the three day (Friday to Sunday) mock plebiscite with ballot boxes all over the capital Santiago and Chile's main cities.
"We are literally overwhelmed, not even in our wildest dreams did we expect such turnout and support" said Jaime Gajardo president of the Professors union, commenting on partial vote counting. He added that last minute voters could use internet until Sunday midnight.
"I think it is not exaggeration to say we can expect over a million votes, probably closer to a million and a half", added Gajardo, in spite of the questioning of the internet vote.
The administration of President Piñera surprised by the support said that the mock non binding referendum had no effect and is not even an effective pressure on the government or its approach to the students' conflict.
"It's just an action from a union that has decided to ask people's opinion on an issue in informal terms", said Andres Chadwick, the Executive spokesperson.
However "government was willing to look at the results, in case the organizers of the plebiscite make them public and explain their methodology".
The plebiscite petition made four basic questions: do you agree with a "public, free and quality education guaranteed by the State"; "do you want the schooling system back under government management?"; "do you agree that private schools that receive government funds should be run on a profit basis or should they be banned?"; and finally, if the linking referendum was an appropriate electoral tool to help solve the country's main problems".
Gajardo said that out of a total 2.940 ballot boxes, vote count in 1.669, equivalent to 56% of boxes, the estimate number of votes was 1.246.528. The average support for the plebiscite four questions was 90% with the remaining 10% dissenting.
Once the vote count if finished with the break down, (positive-negative; ballots-internet) copies will be handed (late Monday or Tuesday) to President Piñera, Ministry of Education, members of Congress, the Electoral Board and the Supreme Court.
"We are very much interested that the option of a binding plebiscite is incorporated to the Chilean constitution", underlined Gajardo.
In related news Chilean student groups have refused President Piñera's request to resume negotiations and say they won't go back to class. A confederation of 36 student groups at Chile's 25 state universities made the decision during a meeting Sunday.
They also agreed to begin contacts with workers unions to consider organizing a general strike sometime in mid October. Trade unions as well as an overwhelming majority of Chilean public opinion (75%), according to polls support students' demands for a public free quality education under government guidance.
President Piñera's public opinion support last week began a mild climb to 30% after weeks at an all time low in the twenties.