"Argentina is not to blame" says father of one or the French girls killed in Salta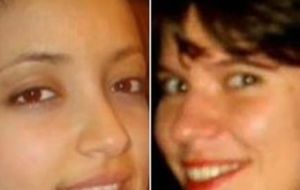 The father of one of the two French tourists who were murdered in the northern Argentine province of Salta in July, Jean Michel Bouvier, spoke on French radio saying that his daughter Cassandre and Houria Moumni "lived through true martyrdom," but that "Argentina is not to blame, my daughter knew that the country has a lower crime rate than most".
Cassandre Bouvier's father further spoke of the horrors that the two young women endured during a first interview with a French radio station. He stated, "I am not religious, but even still, I maintain the Houria and Cassandre lived through true martyrdom. More and more the evidence shows that a massacre took place."
"The recurring image I have is her face, where her body rests in the morgue. I will never forget (…) the judge (French Judge Patrick) Ramael has given me different information regarding the autopsy that was done in France.
Bouvier, who in September met with President Cristina Fernández de Kirchner in Paris, assured that he didn't blame the country for what happened to the girls.
"I don't blame Argentina. I know that my daughter was well aware that the country has a lower crime rate than most. Cassandre had been to El Salvador and to Guatemala; countries far more dangerous in which she was the most sensible out of her group."
The bodies of Cassandre Bouvier and Houria Moumni were found with shotgun wounds and signs of having been raped, on July 29 this year along the tourist trek, La Quebrada de San Lorenzo, 12 km from the city of Salta, 1,600 km north east of Buenos Aires.
Three suspects are under arrest for the killings and the Argentine Judge is trying to determine how events evolved before they are sentenced.