Brazil satisfied with first chapter of "Strategic Frontiers Plan"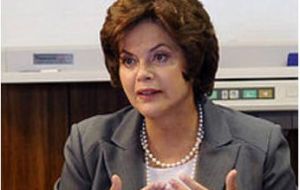 President Dilma Rousseff revealed Monday that in the last four months Brazilian forces in the framework of the 'Strategic Frontiers Plan' had seized over 62 tons of drugs and 650 kilos of arms and explosives.
"We've had very positive results. We already have seized 62 tons of drugs in the last four months and this means that we have impeded a volume of marihuana, cocaine and other drugs from entering Brazilian cities", said Ms Rousseff in her Monday chat program "sharing coffee with the President".
The Brazilian leader also said that one of the operations of the Plan recently concluded along the borders of Paraguay, Argentina and Uruguay had meant the seizure of 650 kilos of explosives, arms and ammunition, besides the drugs haul.
Brazil deployed thousands of troops with air and fluvial backing along borders with Bolivia, Argentina, Paraguay and Uruguay with the purpose of better monitoring the frontier which traditionally has been very permeable.
Brazil is preparing in anticipation of the 2014 World Cup and 2016 Olympic Games in Rio and needs to disarm the drug dealers' gangs which virtually control the slums of the city and entail serious criminal risks.
Further north in the Amazon basin, Brazilian troops as part of the plan destroyed three clandestine landing strips used by drug dealers and closed down an illegal mine which was working inside a protected Indian reservation.
In the four months so far, 3.000 people have been arrested for illicit actions and 300 arms 65.000 ammunition have been confiscated.
Brazil has over 16.000 kilometres of land borders with all South American countries with the exception of Chile and Ecuador.
The combined Police-Armed Forces frontiers' strategic plan had been anticipated to neighbouring countries from Uruguay, Argentina, Paraguay, Bolivia, Peru, Colombia, Venezuela, Guyana and the French Overseas Territory of Surinam.
In a recent chopper over-flight of the River Parana, shared by Paraguay and Brazil, Defence Minister Celso Amorim revealed he was able to identify tens of improvised jetties or loading piers which "are obviously used for illegal or illicit operations" from simple smuggling to traffic of arms and drugs.
Brazil has purchased UAV (Unmanned aerial vehicles) from Israel to further monitor borders and the illegal trading. According to Brazilian military sources, UAVs should be operational in the next six months.