Colombia supports Palestinian state, but insists negotiations with Israel are crucial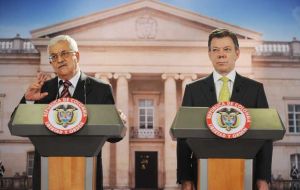 Palestinian leader Mahmud Abbas left Colombia empty-handed Tuesday after failing to secure support from President Juan Manuel Santos for his bid to gain state recognition at the United Nations.
"We want the Palestinian state to exist. But this can only come as the result of a (UN) vote or resolution. It must be the product of negotiations (between Israelis and Palestinians) because this is the only way to achieve peace," Santos said after meeting Abbas in Bogotá.
Abbas in turn said the Palestinians were "ready to return immediately to the negotiating table" after talks with the Israelis were suspended in September 2010 following a brief hiatus. But he repeated a principal Palestinian demand to resume the negotiations, calling for Israel to end settlement building.
Colombia is a non-permanent member of the UN Security Council, where Abbas needs at least nine votes out of 15 to obtain a favourable recommendation for his request to have a Palestinian state gain UN membership.
The Palestinian leader, on a Latin American swing to drum up support for his bid that also took him to El Salvador and the Dominican Republic, later landed in Venezuela to meet with President Hugo Chavez.
Chavez has long championed the Palestinian cause and has hosted Abbas on previous occasions. Before meeting Abbas at the presidential palace in Caracas, Chavez reiterated his support for a Palestinian state.
Chavez said the Palestinians "have gone 63 years enduring abuses, invasions, bombardments, aggressions and UN resolutions" against them. "I invite the entire Venezuelan people to support the cause of the Palestinian people," he said.
In Bogotá, Santos offered to provide Colombian mediation of the crisis, noting that he had discussed the proposal with Israeli Prime Minister Benjamin Netanyahu and US Secretary of State Hillary Clinton.
Abbas is due to meet with French President Nicolas Sarkozy on Friday in Paris to discuss the Palestinian bid for UN recognition. France is a permanent member of the UN Security Council