Slovakia parties agree to vote for Euro rescue plan, and advance elections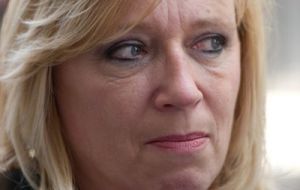 Parties in Slovakia's fallen government struck a deal with the leftist opposition Wednesday to ratify a plan to bolster the Euro zone's rescue fund by Friday, effectively ending a crisis that had threatened the currency's main safety net.
The approval for boosting the European Financial Stability Facility (EFSF) hit an obstacle a day earlier when a junior party in Prime Minister Iveta Radicova's government blocked its passage in a confidence vote that also toppled the cabinet.
Slovakia, whose 5.4 million people make up less than 2% of the currency bloc's population and 1% of its total output, is the only member not to ratify the plan to increase the EFSF's powers and fight the spreading debt crisis.
Ratification by all 17 members is needed for the changes to take effect, and the Slovak foot-dragging comes even as other European leaders wrangle over further steps to protect euro zone banks if Greece defaults on its debts.
Germany and France, the leading powers in the bloc, have promised to propose a comprehensive strategy to fight the debt crisis at an EU summit on Oct. 23.
After meeting the heads of the three centre-right government parties in favour of shoring up the EFSF, the leading opposition Smer party agreed to help them push it through in exchange for an election on March 10, rather than in 2014 as scheduled.
"The agreement makes it possible that either tomorrow night or at the latest, Friday morning, the EFSF and the laws tied to it will be approved," Smer leader and former Prime Minister Robert Fico said.
He said the vote would come "immediately after a constitutional law on holding early elections in March 2012 is passed". In another briefing, Mikulas Dzurinda, head of Radicova's SDKU .arty, confirmed the deal.
Fico had long pledged support for the rescue fund deal reached by European leaders in July but abstained from Tuesday's ratification as a tactical move to topple the government.
Radicova's cabinet will remain in office until a new administration is formed. Fico said he would remain in opposition until the election, but none of the coalition officials gave any details on how they may proceed.