G20 ministerial meeting puts all its weight behind the coming EU summit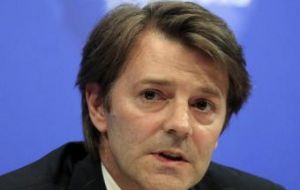 A European Union summit later this month will agree "decisive" measures to tackle the Euro zone debt crisis, the French finance minister announced on Saturday.
The summit would give "clear answers", said Francois Baroin at the end of talks between ministers from the G20 group of nations in Paris. He said central banks "would continue to supply banks with liquidity".
The G20 statement also said ministers were "committed that the IMF must have adequate resources".
The G20 meeting came amid continuing fears about the EU debt-related problems spreading. The US has expressed particular concern about the threat to its economy.
US President Barack Obama and German Chancellor Angela Merkel spoke by phone on Friday to discuss the crisis.
US Treasury Secretary Timothy Geithner said he had heard "encouraging things from our European colleagues in Paris about a new comprehensive plan to deal with the crisis on the continent".
"The plan has the right elements," Mr Geithner said.
Finance ministers from the world's leading economies have said they are willing to help, but only if the Euro zone first helps itself by coming up with a plan that responds to the true scale of the crisis, says the BBC's Hugh Schofield in Paris.
Details of the plan include a bigger write-down than previously expected of Greek debt, a much more powerful European bailout fund and a re-capitalisation of weaker banks to arm them against inevitable losses.
The plan needs to be finalised by next weekend's EU summit in Brussels.
The G20 ministers said they welcomed the measures "to increase the capacity and the flexibility of the EFSF [European Financial Stability Facility]".
The statement added: "We look forward to further work to maximise the impact of the EFSF in order to avoid contagion, and to the outcome of the European Council on October 23 to decisively address the current challenges through a comprehensive plan."
The EFSF has been used to fund bailout packages for Ireland and Portugal but there have been fears it will not be able to cope if it is needed to rescue larger economies such as Spain and Italy, both of which have had their credit ratings downgraded in recent weeks.
Another area under discussion in Paris has been whether to strengthen the IMF. Developing countries want to boost it, but the US in particular has been reluctant, wanting instead for the Euro zone to take stronger action.
Athens is now likely to get its next loan instalment - totalling 8bn Euros in November after inspectors from the EU, IMF and European Central Bank said they had reached agreement with the Greek government on further austerity measures in the country.
The representatives from the so-called troika had been in Athens to check on whether the Greek government was carrying out sufficient spending cuts and tax raising measures.