Leading Cuban dissident and founder of Ladies in White dies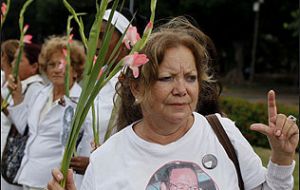 Laura Pollán, one of the founders of the Cuban dissident group Ladies in White, has died in a Havana hospital at the age of 63, fellow dissidents on Friday.
Family members could not be reached, but Pollán's longtime co-leader of the women's group confirmed her death, telling from outside the hospital that "Laura has just died."
Pollán was reported to have a pulmonary illness and been on a respirator since Oct. 7. There were reports earlier on Friday that her condition had worsened.
The former teacher became one of Cuba's leading dissidents after her husband and 74 other government opponents were jailed in a March 2003 government crackdown.
The Ladies in White, dressed in white and carrying flowers, began marching in silence every Sunday in Havana soon after the arrests to demand the release of their family members in protests the Cuban government initially tried to stop, but eventually allowed to continue.
All of the 75 dissidents imprisoned in the crackdown have been released, most of them following a deal between the government and the Catholic Church last year.