As volcanic ash cloud recedes air traffic returning to normal in Argentina and Uruguay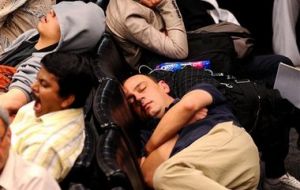 Regular operations have gradually resumed at the main airports of Buenos Aires and in Montevideo's Carrasco air terminal, where most flights had been cancelled since Sunday due to ash cloud generated from Chile's volcano eruption, authorities said.
The airports late Monday started to return to normal after a change of wind cleared the ash cloud over the Ezeiza International Airport and Jorge Newbery Airport in Buenos Aires, and in Montevideo.
Argentine Transport Minister Juan Pablo Schiavi had earlier said the rescheduling of flights would take almost three days and asked passengers to stay in touch with airlines.
Since the Chilean Puyehue volcano erupted last June and began spewing ash intensely at the start and later from time to time, flights in Argentina, Uruguay, Chile and southern Brazil have been subject to frequent disturbances.
The ash cloud also interrupted air traffic as far as New Zealand and Australia and on an occasion South Africa.
Volcanic ash is a serious hazard to aircraft, because the metallic dust can causes engine failure and grinds turbines components.
The Puyehue volcano has also had devastating consequences for Patagonian sky resorts, particularly Bariloche and Angostura in Argentina since they were isolated for weeks with no air traffic and snow covered with a thick carpet of volcanic ash.
Farmers in the region (mostly sheep breeding) have also suffered losses since the animals could not feed as pastures were covered in ash. This was particularly damaging for small farmers with limited flocks since they did not have the resources to supplement the missing food or to move them to unaffected pastures.
Last year, the eruption of Iceland's Eyjafjallajokull volcano led to unprecedented shutdown of air space in Europe since WWII, and affected some 8 million passengers.