Paraguay with Russian help, checking cattle for FMD, hoping to resume exports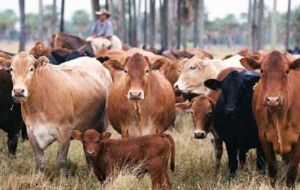 Paraguay Animal Health and Food Quality Department (Senacsa) has started a cattle census in the north of the country where a limited outbreak of foot and mouth disease was reported last month.
The task is taking place with the support of vets and experts from Russia, one of Paraguay's main beef clients.
The launching of the operation was officially announced Tuesday by Paraguayan authorities with the purpose of trying to identify the origin of the FMD outbreak in the northern department of San Pedro and begin the process of resuming exports.
On news of the outbreak last month Paraguayan authorities immediately reported the event to the World Organization for Animal Health. Only one farm was detected to have cattle with FMD and 880 head were terminated with the sanitary rifle.
Senacasa teams are working together with a delegation of Russian vets to verify the field work and guarantee the quality of produce. Once the census is completed the Russian team will check cattle traceability and begins talks to resume sales.
Paraguayan cattle farmers' organizations are hopeful that shipments of beef can resume at the most in a month's time. They were suspended on September 19, a day after the virus was detected in 13 cattle in a model farm in San Pedro.
So far no more FMD outbreaks have been reported in Paraguay following the doubling of controls and prevention measures.
The Paraguayan government is hopeful that with the resumption of beef sales to Russia the meat industry will reactivate and at least 50% of abattoirs can retake business. Currently most of the industry has closed down since sales are limited to the domestic market.
Beef and soybeans are landlocked Paraguay's main export items.