Praise and support for Brazilian president in her fight against corruption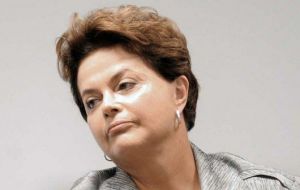 The Secretary General of Ibero-America Enrique Iglesias praised the "courage" displayed by Brazilian president Dilma Rousseff who has been challenged by serious corruption allegations involving members of her cabinet.
"Corruption is something unpleasant and regrettable in any part of the world and obviously also in Brazil" said Iglesias during an event to announce the launching of the New Economic Forum in Madrid, Spain.
"What is really encouraging is the firmness with which the President has addressed publicly the issue and resolved it, which is how it had to be done. This speaks highly of the courage of the president of Brazil to face those problems with no delays or contemplations", he added.
Since Rousseff took office last January first her cabinet has lost five ministers, four of them to strong corruption allegations, exposed by the press.
The corruption allegations knocked out the cabinet chief, ministers of Agriculture, Transport and Tourism. Nelson Jobim from Defence stopped down over policy differences.
Before the ministers stepped down the Brazilian president was under strong pressure on veiled threats from the involved parties belonging to the ruling coalition.
But Ms Rousseff ordeal is not over: her Sports Minister has also been accused of involvement in corruption. The issue is particularly damaging since Orlando Silva is also involved in the organization of the 2014 World Cup and the 2016 Olympic Games.
Before leaving for a tour of African countries the Brazilian president met with Silva and said she would not pre-judge and accepted the arguments from the minister.
However on her return there could be news if Silva does not provide undisputable evidence he has not been involved in an alleged scam to 'skim' funds distributed among non government organizations which promote sports among Brazilian poor children as has been claimed by former aides.
Both Silva and his predecessor in the post belong to the Communist party of Brazil.