Plan to tackle Euro debt crisis stalled; Sarkozy flies to Berlin to meet Merkel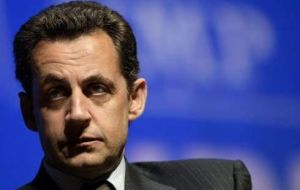 Plans to tackle the Euro zone debt crisis have stalled with Paris and Berlin at odds over how to increase the firepower of the region's bailout fund, French President Nicolas Sarkozy said on Wednesday afternoon.
Sarkozy told French parliamentarians the dispute was holding up negotiations. He then flew to Frankfurt to talk with German Chancellor Angela Merkel and try to break the deadlock ahead of a make-or-break European leaders' summit on Sunday.
He was also expected to meet outgoing European Central Bank President Jean-Claude Trichet while IMF Chief Christine Lagarde and other officials, including European Commission President Jose Manuel Barroso, were attending too.
France has argued the most effective way of leveraging the European Financial Stability Facility is to turn it into a bank which could then access funding from the ECB, but both the central bank and the German government have opposed this.
"In Germany, the coalition is divided on this issue. It is not just Angela Merkel who we need to convince," Sarkozy told the parliamentarians at a lunch meeting, according to Charles de Courson, one of the legislators present.
His comments fuelled doubts about whether Euro zone leaders will be able to agree a clear and convincing plan when they meet on Sunday.
Failure to do so would further undermine financial markets' already shattered confidence in the currency bloc and its ability to get on top of a two-year-long debt crisis, which threatens the long-term viability of the single currency.
One senior EU official, who is involved in coming up with solutions to the crisis, said the only "circuit-breaker" now was for the ECB to make an explicit commitment to go on buying distressed Euro zone debt for "as long as it takes", something Trichet has said should not happen.
That position appeared to be seconded by Barroso, who said in Frankfurt: "The decisive intervention of the ECB in secondary bond markets was and still is a critical element in securing financial stability in the euro area."
"You know the French position and we are sticking to it. We think that clearly the best solution is that the fund has a banking licence with the central bank, but everyone knows about the reticence of the central bank," French Finance Minister Francois Baroin told reporters in Frankfurt.
"Everyone also knows about the Germans' reticence. But for us that remains ... the most effective solution."
A senior German government source said Berlin remained resolutely opposed to the ECB backstopping the rescue fund.