European Union remains split on how to strengthen Euro zone bailout fund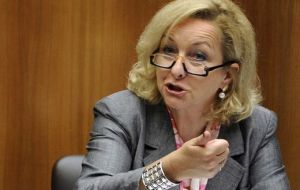 The European Union has agreed that around 100 billion Euros is needed to recapitalise the European banking system, but splits remain before a high-profile summit on Sunday over how to strengthen the Euro zone's bailout fund.
EU officials told reporters all 27 member states had agreed that just short of 100 billion Euros was required to bolster bank balance sheets and protect against the threat of a default in Greece or elsewhere, while a banking source said the figure was more than 90 billion.
"The figure has been discussed with member states. It is now acceptable for everybody," an EU source involved in the discussions said.
Austria's Finance Minister Maria Fekter said there was discussion about forcing banks to recapitalise, although she said she was not in favour of such a move.
Banks will be required to come up with the capital from shareholders first, and if that fails then national governments will provide the support. Only as a last resort will the European Financial Stability Facility, the region's bailout fund, be used to recapitalise institutions.
A deal on recapitalisation clears one hurdle for leaders ahead of the Sunday summit of European leaders, but there remain large areas of disagreement, particularly over how to scale up the EFSF rescue fund to make its lending more effective.
The IMF and the EU also do not see eye-to-eye over the sustainability of Greek debts, with the IMF concerned that EU projections may be too optimistic and that deeper debt reduction is needed, EU sources said.
Despite the differences of opinion, the inspectors are expected to go ahead and approve an 8 billion Euro aid payment to Greece next month, the sixth tranche from a 110 billion Euro package of EU/IMF loans agreed last May.