Falklands in partnership with UK is creating a network of protected areas
Monday, October 24th 2011 - 23:21 UTC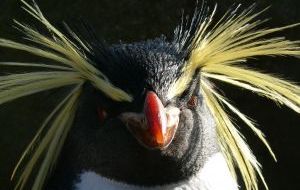 Conservation of penguins, rat eradication and creating a network of protected areas in the Falkland Islands are some of the projects currently under implementation by the UK Overseas Territories Environment Program, OTEP with local organizations.
OTEP is a joint program of the Foreign and Commonwealth Office and the Department for International Development to support the implementation of Environment Charters and environmental management more generally in the UK Overseas Territories. OTEP is jointly managed by the Foreign and Commonwealth Office and the UK OT Conservation Forum.
The goal of OTEP is to "enhance quality of life and livelihood opportunities for the inhabitants of all UK Overseas Territories through the sustainable use (or protection, where necessary) of environmental and natural resources, whilst securing global environmental benefits within the scope of the core principles of the relevant multilateral agreements". It assists the Overseas Territories in taking ownership of and responsibility for these issues, by helping them to assess problems and to promote sustainable solutions through national strategic planning processes and action at local level.
Since 2004, OTEP has supported ten projects in the Falklands, with some linked to other territories, all of which have addressed the conservation of individual species or collections of species or the restoration of plant habitats. Protection work also features.
Since 2004 OTEP has been involved in the following: 2004-2006 Albatross and Petrel Conservation Program; 2005-2006 Falkland Islands Key Sites Project; 2007-2008 Falkland Islands Plants Conservation Project; 2004-2010 Falkland Islands Shallow Marine Program ;2009-2011 Falkland Islands native Plants Program; 2009-2011 Cobb's Wren Conservation Project and 2009-2011 Ocean Climate and Rockhopper Foraging Strategies.
The current projects include: 2010-2012 Action Plan for the Conservation of Falkland Islands Rockhopper Penguins in partnership with the Environmental Planning Department of the Falkland Islands Government.
The first passage (2011) Rat Eradication Programme in partnership with the EPD from the Falkland Islands Government with the aim of preventing the establishment of invasive alien species such as rats, this project will focus on First Passage Island at the Western tip of West Falkland and build on previous successful rat eradication programs on small Islands.
Finally the 2011-2014 Falkland Islands Protected Areas Strategy in partnership with Falklands Conservation: a foundation for creating a network of protected areas in the Falkland Islands, this project will help identify key biodiversity areas and in partnership with landowners build a comprehensive network of protected areas. This will also help the Falkland Islands meet some of its existing international commitments such as Convention on International Trade in Endangered Species of Wild Flora and Fauna (CITES) and the Convention on the Conservation of Migratory Species of Wild Animals (CMS).