German parliament joins discussion on Euro rescue plan
Tuesday, October 25th 2011 - 04:26 UTC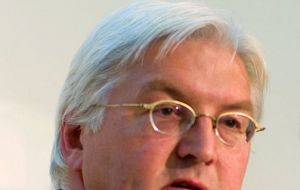 Germany's political opposition has succeeded in ensuring plans to enhance Europe's bailout fund be brought to a vote in parliament on Wednesday. The decision came after the Bundestag's plenary session rejected the opposition's demands for an open debate just Friday.
Proposed expansions to the European Financial Stability Facility (EFSF) were initially to be voted on just by the 42-member parliamentary budgetary committee.
However the Green Party demanded last week that all 620 parliamentary deputies vote on the EFSF expansion plan in light of a ruling last month by Germany's constitutional court that parliament must have a bigger say in rescue funds for Euro zone partner states.
Social Democrat leader Frank-Walter Steinmeier said it was high time "that the debate and ensuing decision take place not in secret somewhere, but in the chamber of the German Bundestag."
But neither Steinmeier nor the Greens' parliamentary party leader Jürgen Trittin would say where their parties stand on the proposal until parliamentarians had received copies of the draft.
Government spokesman Steffen Seibert could not say on Monday when all Bundestag MPs would get these copies.
Also on Wednesday, German Chancellor Angela Merkel is to return to a crunch EU summit on the Euro zone debt crisis in Brussels, where she and other Euro zone leaders have said they will finalize crucial decisions on how to expand the EFSF to make it a viable instrument for propping up Europe's ailing banks
Wednesday's emergency summit will see all EU government heads gather to reach a decision on Europe's banks. Non-Euro members Poland and Great Britain have insisted that the 10 countries not in the single currency be fully involved in the crisis response.
Luxembourg's Prime Minister, Jean-Claude Juncker has criticized the influence of the Bundestag. Besides Germany, there are nine other EU states that require parliamentary approval in law, but none of them are as strict as Germany.
Meanwhile, the chief of the IMF Christine Lagarde praised the efforts of the Euro zone. "It is well to its way to recovery," she asserted. The IMF contributes one third of the total aid package for Greece, Ireland and Portugal.