Two-day fire destroys 1.550 hectares of forest and grazing land in Tierra del Fuego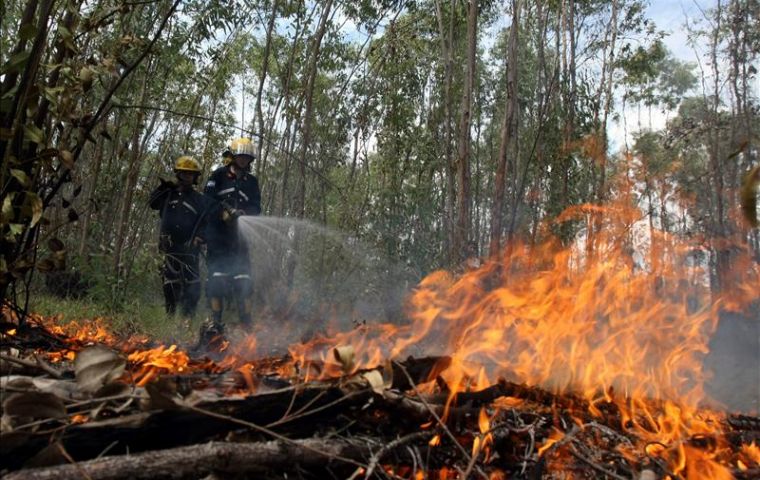 Forest fires that began on Sunday in the province of Tierra del Fuego, Argentina's extreme south have spread across from 50 hectares of trees to 1.500 hectares of grazing land, provincial officials confirmed.
The fires, which spread in the last few hours due to strong winds, were affecting the outskirts of the farming and oil town of Tolhuin, located in the centre of the province.
Teams of firemen, police, and Civilian Defence were working at the scene to try to control the flames which -according to a communiqué released by the provincial government- even though they had reached the urban area, "they are still a significant way away from the inhabited area".
Apparently the fire started when campers did not turn out properly a fire at the Las Flores leisure centre that on weekends attracts many visitors to enjoy camp life and spectacular scenery.
The head of the local tourist office Roberto Berbel said that the fire rapidly spread to a nearby dried forest and then to grazing land.
"At the moment some fifty hectares are on fire and the wind is blowing at approximately 100 kilometres per hour which means the fire is jumping from tree top to tree top. The situation is complicated unless the wind calms down", said Berbel.
This is not the only fire in the region. Last Thursday oil gangs were cleaning the area and lit a fire to burn garbage but the wind also surprised them. Over a hundred fire men and volunteers had to combat for over twelve hours before containing the disaster.
Governor Fabiana Rios over flew the area in a helicopter to see the magnitude and extension of the damage and promised she would request funds from the federal government to compensate losses.