UN assembly calls on the US (for the 20th time) to lift trade embargo against Cuba
Wednesday, October 26th 2011 - 02:53 UTC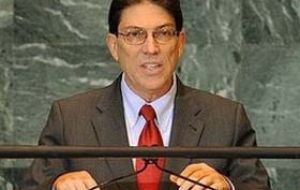 The UN General Assembly called on Tuesday for the 20th straight year on the United States to lift its trade embargo against Cuba, as the communist-run island dismissed as fraudulent US moves to ease some restrictions.
As in past years, the vote in the annual ritual was overwhelming, with 186 nations -- including most of Washington's closest allies -- supporting the resolution on the embargo, a result virtually unchanged from last year.
Only Israel, heavily dependent on US backing in the Middle East, supported the United States in opposing the non-binding resolution, while the tiny Pacific states of the Marshall Islands, Micronesia and Palau abstained.
In January, President Barack Obama further loosened curbs on US travel and remittances to Cuba. He said last month he was ready to change Cuba policy but was still waiting for signals from Havana such as the release of political prisoners and guarantees of basic human rights.
But Obama has not lifted the 49-year-old trade embargo and analysts see no chance of him doing so as he faces a re-election campaign next year. Many staunchly anti-communist Cuban exiles live in the electoral key state of Florida.
Presenting the resolution, Cuban Foreign Minister Bruno Rodriguez said Washington had not relaxed its Cuba policy, which he said had caused, over the years, 975 billion dollars of economic damage to his Caribbean nation.
"Despite the false image of flexibility that the current US administration intends to portray, the blockade and the sanctions remain intact, they are fully implemented and their extraterritorial character has been intensified in recent years," he said.
Obama's stance "is the same worn-out, repetitive position anchored in the past," he added.
Rodriguez, whose speech was greeted with prolonged applause by the assembly, also signalled there would be no concessions by Havana. "What the US government wants to see changed will not change," he declared.