WTO warns protectionism is gaining ground "as a political reaction" to economic difficulties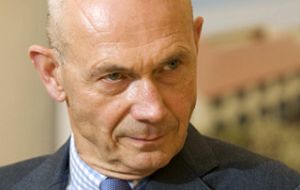 Economic pressures are tempting G20 governments to resort to protectionism in a misguided bid to shield their domestic markets from problems that are unrelated to trade, the World Trade Organization said in a biannual report Wednesday.
"World trade has grown more slowly than expected in recent months. Developed economies have been hit by a number of problems ranging from the impact of natural disasters to issues related to national budgets, credit conditions, and sovereign debt crisis".
The dark forecast for global economic on the next years has also taken a toll at world trade, says WTO.
"The global economy has entered a dangerous, uncertain phase after the encouraging signals of recovery seen at the end of 2010 and the beginning of 2011. Downside risks and uncertainties for the global economy are now growing: global activity is slowing down, economic performance continues to be uneven across countries, high debt levels and financial volatility are rising, high unemployment levels persist in many countries, and confidence has fallen sharply recently", the biannual document reported.
According to the OMC, the ascension of protectionism is aggravated by the world financial crisis. "There is a growing perception that trade protectionism is gaining ground in some parts of the world as a political reaction to current local economic difficulties – difficulties that trade restrictions are very poorly equipped to resolve, such as the case of currency fluctuations and macroeconomic imbalances.
"Disappointingly weak growth in some G-20 countries and continuing macroeconomic imbalances globally are testing the political resolve of many governments to abide by the G-20 commitment to resist protectionism," says the report.
"Unilateral actions to shield domestic industries, although appealing from a narrow short-term perspective, will not solve global problems; on the contrary, they may make things worse by triggering a spiral of tit-for-tat reactions in which every country will lose," said the report issued by the office of WTO Director-General Pascal Lamy.
"The situation is not yet alarming, but it is clearly adding to the downside risks to the global economy," it added.
"There is a need for urgent attention by the G-20 to prevent any further deterioration in their collective trade policy stance and to place their faith in open markets and the benefits of freer trade at the heart of their economic policies to re-boot growth in the world economy."
The pledge had clearly been broken in many instances, the report said, with a more protectionist political climate and tendency towards industrial support combined with trade restrictions.
"Calls have been made by some political leaders to give preference to domestic products over imported ones, or 'not to import what can be produced at home'."
The report, a review of G20 trade measures between May and mid-October 2011, found there had been no slowdown in trade-restrictive measures and no increase in steps to remove existing restrictions, despite an "unwavering" commitment to resist protectionism pledged at the last G20 summit in Seoul.