Brazilian central bank suggests 'moderate' cuts to interest rates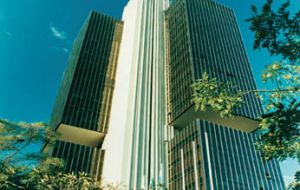 Brazil's central bank said slowing global growth will have a large enough disinflation impact and allow policy makers to carry out "moderate" cuts to interest rates.
The bank, in the minutes to its Oct. 18-19 meeting, said it sees "declining risks" of missing its 4.5% inflation target next year. The inflation rate fell to 7.12% in mid-October, the first decline in 14 months, though it remains above the 6.5% upper limit of the government's target range.
"Even with a moderate adjustment in the basic rate, the inflation rate in the relevant horizon is positioned near the 2012 goal," the bank said in minutes. The report was published hours after European leaders agreed to expand a bailout fund to stem the region's debt crisis, easing concern that the global economy is heading for recession.
Policy makers cut the benchmark interest rate a half point for a second straight meeting last week, to 11.5%, to protect Brazil from turmoil that has wiped more than 6 trillion dollars from world stock markets since the end of July.
The central bank is betting that weaker growth in Europe, the U.S. and China will offset the stimulus provided by lower borrowing costs and curb the fastest inflation in six years.
Traders are betting on an additional 1.25 percentage point of rate cuts by March and recent data show growth and inflation are slowing faster than expected, bolstering bank President Alexandre Tombini's case for rate cuts.
The central bank published a "base scenario," which assumes that the world economic turmoil has an impact on Brazil a quarter as strong as the 2008 crisis, allowing inflation to slow to 4.5% next year.
In the reference scenario, which assumes a benchmark interest rate of 12% and in the market scenario, which assumes that the central bank cuts its benchmark rate in line with economists' forecasts, inflation will exceed the 4.5% goal next year, the minutes show.
The central bank said that a "tight" labor market would continue to propel demand during the global economic slowdown. Wage increases incompatible with increases in productivity are a "very important risk" for inflation, the minutes said.
Brazil's jobless rate was unchanged in September at 6%, the national statistics agency reported Thursday. The economic activity index, a proxy for GDP contracted 0.53% in August from the month before its biggest monthly drop since the global financial crisis of 2008. August retail sales fell the most since March 2009, while industrial production registered its third decline in five months.
Growth in the world's seventh-biggest economy will slow to 3.3% this year from 7.5% in 2010, according to the median forecast in the most recent central bank survey.