Euro zone largest bank profits down as bad loans in Spain keep growing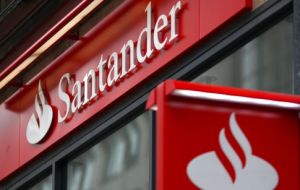 The Euro zone's biggest bank Santander said it expected bad loans in Spain to keep on growing as Spaniards, blighted by unemployment and heavy mortgage debt, fall into arrears on payments.
Spain remains a weak spot for Santander, despite a decade of aggressive expansion abroad, as souring loans related to a steep property downturn call for greater provisions.
"We see bad loans on the rise in Spain" Chief Executive Alfredo Saenz told reporters at a press conference. "I said at the last presentation that the peak could be around 5% but I got it wrong."
Bad loans as a percentage of total lending are likely to hit a ratio of up to 5.8% in the second half of next year, he said. Santander had a bad loan ratio of 5.15% at end-September, below August's nationwide level of 7.2%.
Investors are concerned about Santander's capital levels given its exposure to toxic Spanish real estate assets and to its home country's sovereign debt amid a crisis of confidence in peripheral Euro zone countries.
The European Banking Authority (EBA) has identified a capital shortfall of 15 billion Euros at Santander, or 6.5 billion Euros if a convertible bond is taken into account. The recapitalisation program does not include provisioning for real estate exposure.
Spanish banks represented a quarter of the 106 billion Euro short-fall for European banks estimated by the EBA. This is double the weight of Spain's GDP in the Euro zone.
Santander reported a 13% drop in nine month net profit to 5.3 billion Euros