Uruguay's flock at a historic low; number of cattle below 11 million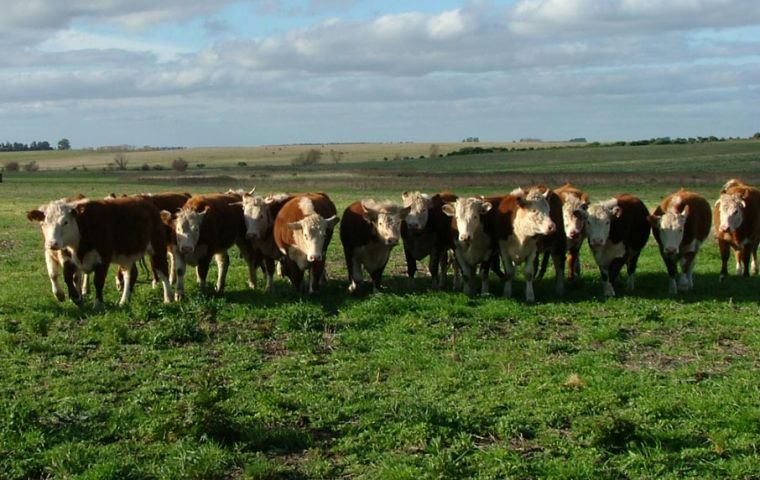 The latest update of Uruguay's livestock census for the year ending last June 30 shows the number of cattle is below eleven million and the flock at its lowest since colonial times with 7.3 million head.
The number of cattle is down 1.16% (128.000) compared to the previous twelve months with a slight increase in the number of meat cows (42.000) but a significant drop in heifers (30.000) and 200.000 less one to two years female calves.
Fat cows ready for market number 383.000 (up 22.000).
Regarding steers of up to three years the number reached 535.500 (up 26.000) which mean there will be abundant cattle ready for sending to abattoirs this season.
However there is concern about coming years since the number of steers 2 to 3 years is down 44.000 and calves 1 to 2 years, down 243.000.
This totals a stock of 1.7 million which is considered insufficient to meet domestic and export demand in years ahead.
However the notorious drop in 1 to 2 year olds, because of a very serious drought in 2008/09, is partly compensated with the number of calves (below one year) which are back to normal, 2.6 million, plus of 295.000 over the previous period.
Finally the number of sheep again contracted in the last twelve months and the flock now stands at 7.362 million far from the traditional 19 to 21 million head.
The data has been provided by the Ministry of Agriculture responsible for the control of livestock numbers, DICOSE, which holds sample censuses twice annually.