Mount Hudson has Chile and Argentina on full alert, recalling 1991 eruption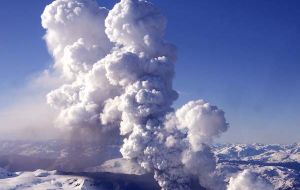 The Mount Hudson volcano, located in southern Chile, maintained its activity on Friday following the eruption earlier in the week. A 1991 eruption of the Hudson send volcanic ash spewing over thousands of kilometres and as far east as the Falkland Islands.
Authorities decided to keep in place a state of Red Alert and complete the process of evacuation within a 45km area, considered to be at greater risk, the Chilean Interior Ministry's National Office for Emergencies (ONEMI) informed.
Mount Hudson, located around 1,600 km south of Chile's capital began to erupt this week following a string of seismic activity in the region.
The Committee for Emergency Operations in Chile, headed by the Interior Deputy Scretary, Rodrigo Ubilla stated that "this morning the volcano has not presented variations with respect to the activity registered from yesterday."
Ubilla further stated that, "according to seismic reports, and data obtained at an observation summit within the mountain range, the indications are that the activity has not increased nor has it decreased, and for that reason it is recommended that a state of Red Alert is maintained and that the process of evacuation within a 45km radius of the volcano be completed."
At midday, the Chilean Air Force carried out "an overhead flight, to obtain images of the crater itself to be able to determine the overview for the next few hours."
Meanwhile, in Argentina residents of Santa Cruz began to prepare in case of further eruption. The Crisis Committee in Santa Cruz put into motion a series of preparative measures along the Argentina-Chile border close to and in the town, Los Antiguos.