London School of Economics tarnished by links with the Gaddafi family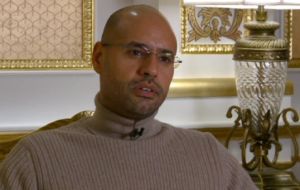 London School of Economics (LSE), one of the most renowned branches of the University of London, is currently making news due to the activities of a couple of its more infamous, rather than famous, alumni - one of them named Gaddafi.
On Monday, Victor Dahdaleh, a former LSE student and businessman whose fundraising earned him a place as one of the school's governors, will appear in a London courtroom on bribery charges brought by Britain's Serious Fraud Office (SFO).
The charges relate to bribes Dahdaleh allegedly paid to officials of Aluminium Bahrain BSC., a smelting company whose majority owner is the Bahrain government. On Friday the SFO confirmed a Financial Times report that one allegation is that Sheikh Isa bin Ali al-Khalifa, an advisor to Bahrain's prime minister received nearly 6 million dollars in bribes from Dahdaleh in 2003-2004.
Following Dahdaleh's arrest earlier this week, LSE said that it was reconsidering Dahdaleh's position as a school governor.
Meanwhile, LSE is also awaiting, with trepidation, results of two parallel investigations into the school's dealings with Libya and with Saif al Islam Gaddafi, one time heir-apparent to his late father, Muammar and holder of a doctorate awarded by LSE in 2008.
Lord Harry Woolf, a former Chief Justice of England and Wales, was hired by LSE in March to investigate several aspects of the school's dealings with Gaddafi's Libya.
Issues under scrutiny included LSE's agreement to accept a 1.5 million pounds donation to a school think tank on Global Governance from a Gaddafi family charity; the agreement of an LSE commercial affiliate to a 2.2 million pound contract with Libya's economic development board to train Libyan civil servants, and the school's acceptance of a 50.000 dollars donation in return for advice LSE director Sir Howard Davies gave to Libya's sovereign wealth fund in 2007.
A related investigation is being conducted by the University of London into allegations of "ghost-writing" and plagiarism in the production of Saif al Islam 's PhD thesis.
The thesis is entitled "The role of civil society in the democratization of global governance institutions: from 'soft power' to collective decision-making". It helped build Saif al Islam's reputation as a potentially enlightened successor to his eccentric father.
Saif al Islam certified that the thesis "is solely my own work other than where I have clearly indicated that it is the work of others." But allegations later surfaced that he had been aided by a ghost-writer and had copied passages of his dissertation from other people's work.
The school said in March that "no formal allegations had been made as to academic misconduct until the events of recent weeks." But now there are detailed postings on the internet highlighting portions of Saif al Islam's dissertation which he allegedly purloined.
Lord Woolf posted an announcement earlier this month on the internet saying he had finished his investigation and had submitted a report to university authorities, which he hoped would be "published as early as possible." School officials expect Woolf's report will contain criticisms, perhaps harsh ones, of LSE's handling of its contacts and dealings with Libya and the Gaddafis.
Until now Dahdaleh had been very active in supporting and raising funds for LSE and its activities. His official on-line biography describes him as an LSE governor, a "leading donor" to the school, and a member of its "Fundraising Campaign Committee." Dahdaleh also described himself as "honorary president and chairman of the advisory board" of an LSE affiliate called LSE Global Governance, a research outfit which claimed to have "pioneered research into globalization."
LSE Global Governance was also one of the main intended recipients at LSE of money from something called the Gaddafi International Charity and Development Foundation. Although it initially agreed to accept 1.5 million pounds from the Gaddafi charity, however, in the end only 300,000 pounds were actually received.
One of LSE's most awkward interactions with the Gaddafis occurred in May 2010 when Saif al Islam was invited to speak on "Libya, Past, Present and Future," as part of a lecture series dedicated to the memory of Ralph Miliband, a renowned left-wing LSE academic who died in 1994.
Miliband's son Ed now leads Britain's opposition Labour Party; Ed's brother, David, served as Britain's foreign secretary under Labour Prime Minister Gordon Brown.