For Euro aid package to work "all elements must be implemented" says Germany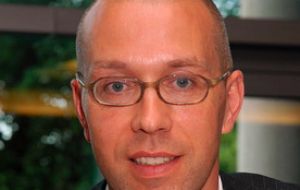 The package of measures agreed by European leaders this month to stem their debt crisis will only work "if all elements are implemented", German Deputy Finance Minister Joerg Asmussen said in an interview Monday.
Speaking to Reporters days before a meeting of G20 leaders in Cannes, Asmussen also said he did not expect Germany to come under any pressure from other countries at the summit to do more to stem the crisis that has forced bailouts of Greece, Ireland and Portugal and now threatens Italy and Spain.
"It's a comprehensive package" he said, referring to the deal sealed after marathon talks last Thursday to offer Greece debt relief, recapitalize European banks and leverage the bloc's rescue fund.
"We now need to implement all elements of this package. So that it can work out, all elements need to be 100 percent implemented."
Asmussen said European governments needed to be given time to implement the changes, saying the summit plans were only a few days old.
Asmussen, who is due to become a member of the European Central Bank's board from next year, has taken a lead role in a German-Mexican working group that has been charged by the G20 to come up with recommendations for reform of the global currency system.
One issue under discussion is an expansion of the IMF currency basket, known as special drawing rights (SDRs), to include the Chinese Renminbi, or Yuan.
Asmussen said it would take "some years" for the basket to be extended and that the criteria for entering would not be watered down.
"We have decided in the working group to keep the criteria that a country needs to fulfil to qualify to enter the currency basket unchanged. That means first the currency must be widely used in trade transactions, and second it must be freely usable. So we have not lowered the bar for entry," he said.
He said one way to test the inclusion of more currencies would be to create a "shadow basket".
"What can be a way to make it slightly more operational is if one could calculate a kind of shadow basket at the IMF to see how things would come out over the next years if more currencies joined. The use of a shadow basket could be practical over the next year," said Asmussen.