Argentina among top world exporters of chicken meat, while beef loses clout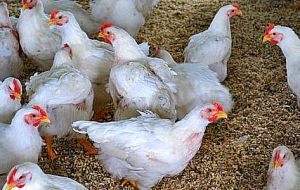 Argentina is currently ranked among the world's top six exporters of chicken meat (breast and legs) while in beef has dropped to position nine, according to the latest data from the US Department of Agriculture, USDA.
This is partly attributed to the fact that in four years the Argentine rodeo dropped dramatically by 20%, while broiler production with abundant grains ballooned.
In effect according to USDA Argentina is forecasted to export 260.000 tons of beef in 2011, its lowest volume since the foot and mouth disease crisis of 2001. For 2012 the volume could climb to 300.000 tons.
This means Argentina has fallen to ninth place as beef exporter and representing only 3% of global trade in this commodity. Australia leads the list of exporters followed by Brazil, India, US, New Zealand, European Union, Canada and Uruguay.
However regarding chicken meat, Argentina is expected to export 200.000 tons in 2011 and 225.000 tons in 2012. World participation in exports is minimal, 2.2%, but anyhow ranks in position six behind Brazil, US, EU, Thailand and China.
But if total beef production is taken into account, 2.5 million tons in 2011, and 2.6 million tons forecasted for 2012 Argentina ranks sixth, behind US, Brazil, EU, China and India. This represents 4.5% of world production but high domestic consumption, 2.3 million tons, limits exports.
Likewise with chicken meat production: Argentina ranks eight behind US, China, Brazil, EU, Mexico, India and Russia with a miniscule contribution to the global production of 83 million tons: a mere 1.7 million tons equivalent to 0.2%.
How can this be explained: because of the current Argentine policy towards farmers.
Beef exports are limited, containing prices, to support the domestic market while a similar policy with corn helps the poultry and broiler industries flourish with a good cost ratio and unlimited exports.