IberoAmerican summit a "failure": Latam has its own voice in world affairs
Tuesday, November 1st 2011 - 06:01 UTC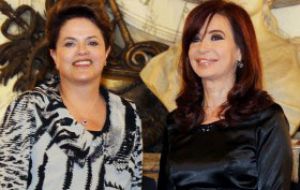 Spanish media criticized harshly the latest Ibero-American summit in Paraguay last Saturday arguing that the non attendance of 11 of 22 leaders of the region can only be described as a failure of Madrid's diplomacy and disrespect for the Spanish representatives.
"El Pais" one of two leading Spanish newspapers said that the summit in Asunción was left waiting for half of the leaders of the 22 delegations officially present at top level, including the "three partners of Paraguay in the Mercosur block, Argentina, Brazil and Uruguay".
Officially Brazil's Dilma Rousseff and Argentina's Cristina Fernandez were preparing for this week's G20 meeting in France. Both countries are full members of G20 and Spain attends invited.
'El País' also points out that possibly with the exception of Mexico, the eyes of Latin America are set on Asia, particularly China and India.
"Latin America needs in the immediate to avoid global consumption from collapsing so that they can continue to export at good prices energy, food and raw materials and it is those Asian markets that seem to be boosting strongly the growth of an enormous middle class anxious to consume and improve living conditions".
"El Diario Exterior" points out that leaders' absenteeism wants to be justified with the European crisis and the growing influence in the region of China and the South East Asia, but reasons are "political and not economic".
Others adventure to think that failure in convening the Asuncion summit responds directly to "an unconvincing Spanish foreign policy, the way the Ibero-American group secretariat is managed or its penchant for bureaucracy full of good intentions, ad infinitum rhetoric and no follow up of the pompous cooperation programs which many times compete directly with bilateral or multilateral Spanish cooperation", adds "El Diario Exterior".
"La Galicia" arguers that nobody is making efforts to dissimulate what happened: the Ibero-American summit in its 2011 edition "has been a rotund failure".
The Latin American leaders' absenteeism has reached 'stampede magnitude' with different excuses for the different cases.
Finally it argues that the "real issue has no turning around: the summit has become a redundancy for Latin American powers that already have their own voice in other global forums".
"La Galicia" also points out that rumours indicate the coming IberoAmerican summit scheduled next year in Cadiz, south of Spain, "could very well be the last one".