Latin America will demand at G20 summit greater voice for emerging economies
Tuesday, November 1st 2011 - 21:12 UTC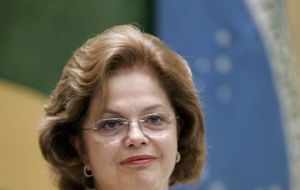 The Latin American block arrives this week at the G20 summit in Cannes with a consensus spearheaded by the strong political standing of Brazil in global affairs and with criticisms to the way in which the European Union and the US are managing their respective "crises".
Brazil will also play a 'hinge' role between the interests of Latin America and BRICS to which it also belongs (Brazil, Russia, India, China and South Africa) and which attracts over half the global foreign direct investment, according to recent data from the UN.
Latin America which will be represented with Argentina, Brazil and Mexico, reached a consensus on common positions to defend at G20 during a meeting last October 18 in Montevideo.
In the Uruguayan capital it was agreed to request a greater say in global economic decisions including a seat at G20 for Aladi (Latin American Integration Association) to reinforce the region's presence that is resisting global turbulences and keeps growing at enviable rates.
At the same time recalling that the current crisis is the 'responsibility' of developed countries and not of emerging economies.
Overall the BRICS group coincides with Latin America in so far that they are also calling for a reform of multilateral organizations and a greater voice for the emerging economies.
"The concentration of power in multilateral institutions which today represent mainly the developed countries is obsolete and reflects a global order that no longer exists", said Brazilian president Dilma Rousseff during a recent tour of African nations.
Mexico that will be holding the rotating presidency of G20 in 2012 believes the coming Cannes summit should come up with concrete actions to ensure stability and growth because it is important "to act with urgency and in a coordinated way to restore confidence and stabilize markets".
"The G20 agenda should be inclusive and give priority to issues that affect developing countries and Latin America more specifically", said Roberto Marino, the Mexican delegate at G20.
Latin America and emerging economies, with different, emphasis, are in favour of taxing international financial transactions and adopting concrete measures to end with speculation in markets and the so called tax havens.
China is expected to reiterate its concern with the lack of clear solutions to the debt crises in the US and EU, and will do so from a privileged situation as a leading economic power and locomotive of global economic activity.
BRICS members in spite of the rhetoric have shown to be inclined to help the EU and the US but through the IMF, contributing with new funds, but Washington and Germany are not convinced.
Emerging economies support a Brazilian initiative to expose the European banking system to "resistance tests" and greater cuts for private creditors of Greece.
Brazil also proposed establishing effective 'fire walls' to protect Italy and Spain, to avoid the expansion and contagion of the crisis and demands "quick political decisions" to create jobs, promote domestic markets and global trade, with no space for 'protectionist measures'.
However it is precisely in this point where the major differences between rhetoric and practical implementation occur since in most emerging economies some kind of protectionist measures have been introduced to defend domestic markets.
In effect Brazil, Argentina, China and India currently have, at different levels, various trade disputes because of barriers imposed and have threatened to take the cases before the World Trade Organization.
Furthermore Argentina has demanded Brazil, given her condition of regional power, should increase imports from South American countries so as to protect the region from the forecasted recession in Europe.