OAS faces critical financial situation; difficulties to pay salaries
Tuesday, November 1st 2011 - 04:58 UTC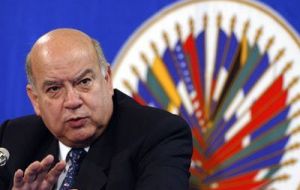 The Organization of American States, OAS, faces a financial 'crisis' warned Monday Secretary General Jose Miguel Insulza after country members approved the 2012 budget totalling 85.3 million dollars, with no increase over the current level of expenditure.
"We are facing a crisis situation" admitted Insulza at the close of an extraordinary meeting of the OAS general assembly in Washington to approve the budget.
"We have a precarious situation, any delay in the payment by any country is a conflict, a difficulty and the possibility of not having funds to pay for salaries" said Insulza who pointed out that the OAS funds are insufficient to cover outlays.
"There is an excess of mandates which countries demand from the OAS, but contributions are not coming" added Insulza.
The budget approved Monday calls for "a culture and practice of austerity, efficiency, accountability, transparency and prudence in the use, execution and management of the OAS resources", according to an agreement approved unanimously.
To start with five advisory posts of personal confidence have been eliminated and no new posts will be created in 2012, announced Insulza. Nevertheless the organization must begin a more ample discussion to redefine priorities and rationalize funds, he added.
Insulza admitted that even when the 2012 budget is 'balanced' and the organization has no debts, the 'equilibrium is only apparent': many basic activities such as electoral monitoring with observers are financed by specific donations.
"This year we were very close on not being able to finance electoral observers in two events because of lack of funds", revealed Insulza.
Further more the Inter American Human Rights Court and Commission are financed mostly by regular funds, which any shortage of funds will also affect its running.