The Euro crisis plays in favour of advancing EU/Mercosur trade negotiations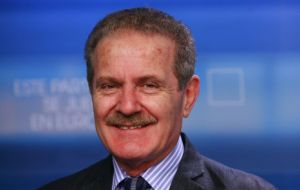 The worsening of the world crisis is a factor that plays in favour of advancing negotiations for the European Union and Mercosur cooperation agreement and strategic association, said Socialist Euro Deputy Luis Yañez from Spain currently visiting Montevideo.
"The current scenario should influence more positively because it is better than when negotiations were re-launched in May 2010, in Madrid, (even in crisis) but not with the sovereign debt crisis in Europe", said Yañez.
"If then the majority of actors saw it as a necessary initiative, now it is even more urgent because what Europe needs is to export so it can inject growth into its economy", said the politician from the ruling Spanish Socialist party PSOE.
With the agreement Europe will have the chance to trade with a market of 250 million people in which it would also count with associates "which are not suffering such an open and widespread crisis" but under no way "feeling triumphant" and that also need to increase their trade.
Yañez is in Montevideo as president of the EU Parliament delegation for Mercosur which this week is scheduled to meet with members from Parlasur, the Mercosur legislative branch.
Uruguay currently holds the rotating chair and next week will be hosting the seventh round of Mercosur/EU negotiations to advance in the association agreement which has been stalled since 2004 although last year there was an attempt to re-launch them taking advantage of Spain's presidency of the EU block.
Yañez admitted that not many advances can be expected from the coming meeting, but they are 'progressin adequately' and recalled it is "a treaty of great complexity and huge dimensions", since it involves 800 million people.
The Euro deputy believes that the horizon of the negotiations will take place in July 2012 when the EU-Latin America-Caribbean summit in Chile.
"Negotiators and heads of State from both blocks are contemplating two options: by then all will be ready for the exchange of trade proposals for the reciprocal opening of markets, or at least a strong shared public commitment to have the negotiations successfully concluded by the end of 2012".
An important factor is that the summit will be taking place a month after France, one of the countries with the most objections to the agreement because of its strong defence of agriculture, will have left presidential elections behind.
Although this does not mean that because of the elections France will see a dramatic change in its position, Yañez does believe that "objections will diminish since France will be needing markets".
"France is an agriculture and livestock power but so are and very competitive Argentina and Brazil, and at the same time France is interested in the opening of Mercosur markets for technology, industrial goods and services", underlined the Spanish and Euro lawmaker.