Germany/France lashes out at Papandreou and establish mid-December deadline
Wednesday, November 2nd 2011 - 20:35 UTC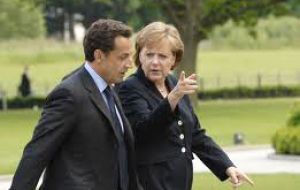 Germany and France told Greece on Wednesday it should make up its mind by mid-December whether it wants to stay in the Euro zone when Greeks vote on a 130-billion-Euro bailout.
French President Nicolas Sarkozy and Germany's Angela Merkel summoned George Papandreou for crisis talks in Cannes, before a G20 summit of major world economies to push for rapid implementation of measures to tackle the Euro zone debt crisis, which Athens has thrown into doubt.
Sarkozy said Papandreou's announcement of a referendum "took the whole of Europe by surprise" and his prime minister, Francois Fillon, told parliament: "Europe cannot be kept waiting for weeks for the outcome of the referendum.
"The Greeks must say quickly and without ambiguity whether they choose to keep their place in the Euro zone or not."

Opinion polls suggest most Greeks think the deal thrashed out by Euro zone leaders last week is a bad one, but much will depend on how Papandreou frames the debate, either on the bailout -- and the painful cuts it demands -- or membership of the Euro, which remains popular.
Greece's European partners will press for the latter.
German Chancellor Merkel struck the same tone of exasperation and impatience as Fillon in comments before flying to Cannes for hastily arranged meetings of European Union policymakers and with Papandreou.
"We agreed a plan for Greece last week. We want to put this plan into practice, but for this we need clarity and the meeting tonight should help with precisely this" she told a news conference with Turkish Prime Minister Tayyip Erdogan.
Germany's finance ministry hinted that European partners and the International Monetary Fund may withhold the next 8 billion Euro aid instalment to Athens, due this month, until after the referendum.
EU leaders endorsed the disbursement of the money last week, but the IMF board has yet to set a date for a decision. An IMF source said the way forward would depend on the outcome of EU talks with Papandreou, which IMF Managing Director Christine Lagarde will join.
French officials said Papandreou would be pressed to put the bailout deal to parliament first in hopes of reassuring financial markets which panicked when he called the plebiscite
Papandreou said he would push ahead with a referendum on an EU bailout deal, defying demands from lawmakers of his own party that he quit for jeopardising Greek membership of the Euro.
"The referendum will be a clear mandate and a clear message in and outside Greece on our European course and participation in the Euro," Papandreou told a late-night cabinet meeting, according to a statement released by his office.
"No one will be able to doubt Greece's course within the Euro" he said, adding that market turmoil triggered by his announcement of the referendum late on Monday would be short-lived.