LAN and TAM move ahead with merger to be completed in early 2012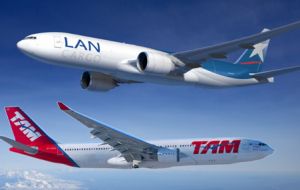 Chilean flag-carrier LAN SA and Brazil's TAM SA have unveiled senior management changes as their plan to merge advances. The merger is expected to be completed in the first quarter, and will see the two airlines taken over by a new holding company, LATAM Airlines Group, the companies said in a statement.
The two airlines will continue to operate independently, as Brazilian law prevents a foreigner from owning more than 49% of a Brazilian airline.
After the merger TAM shareholders will retain voting control of TAM, but LATAM will own 100% economic interest, according to LAN's executives.
Under the new structure, LAN chief executive, Enrique Cueto, will take over as the top executive at the new company, while TAM deputy chairman, Mauricio Rolim Amaro, will become chairman of LATAM' board of directors, according to the statement.
TAM chief executive, Libano Barroso, will take over as the chief financial officer at LATAM.
At the two airlines, Ignacio Cueto, currently the chief operating officer of LAN, will become the chief executive of LAN, while Marco Antonio Bologna will remain as chief executive of TAM.
Maria Claudia Amaro will remain as chairman of TAM board of directors. If the merger is successful, LATAM Airlines Group will be among the 10 largest airlines groups worldwide and within the three largest in terms of market capitalization, according to the statement.
LAN is currently challenging three of the 11 measures demanded by Chile's antitrust court, TDLC, to authorize the merger. The companies are also awaiting a ruling from Brazil's top antitrust regulator, CADE.