BRICS 'leaders scheduled to decide on common stance before the G20 summit'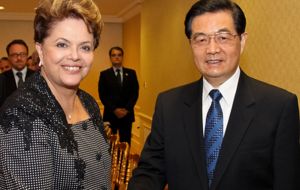 Brazilian president Dilma Rousseff said that solutions to European and global economic difficulties need to promote economic growth and employment. Ms Rousseff arrived Wednesday in France for the summit of G-20 leaders this week, but before will be meeting with peers from the BRICS group to work out a common stance.
Rousseff and top advisers Wednesday met with Chinese President Hu Jintao and Australian Prime Minister Julia Gillard in Cannes in an effort to fine tune their countries' responses to an unfolding fiscal crisis in Europe.
However, Brazil officials would not confirm whether the country and key BRICS counterparts would get on board to provide needed financial aid to ailing EU members.
BRICS members Brazil, Russia, India, China and South Africa have scheduled a meeting for Thursday to see if they can reach a coordinated position on the matter.
Brazilian government officials last week said they would consider using a portion of Brazil's 350 billion dollars in foreign reserves to help aid the EU through bilateral agreements at the International Monetary Fund.
But China, with more than 3 trillion dollars in reserves, has not committed to a preferred method for offering aid.
"China is willing to maintain close high-level contact with Brazil, and the two sides should map out a cooperation plan for the next decade so as to promote the bilateral relationship in a coordinated and strategic way", said President Hu of the meeting with his Brazilian peer.
Hu added the two nations should further "develop pragmatic cooperation and fully use their mutually complementary advantages in capital, technology and energy resources to earnestly push forward cooperation in all fields and achieve a win-win result".
The Chinese president said the two countries should also strengthen policy coordination and strategic cooperation within multilateral frameworks such as the United Nations, BRICS and the G20 in order 'to jointly safeguard the interests and rights of the developing countries'.
President Rousseff said that Brazil is ready to work together with China to increase mutually beneficial cooperation in the areas of innovation, aviation, investment, environment, culture and education so as to continuously advance the bilateral strategic partnership.
The two presidents also exchanged views on the current global economic and financial situation, saying the BRICS countries and other emerging market economies should strengthen their coordination and cooperation as acute sovereign debt problems are troubling many developed countries, global inflation pressures are rising and the international financial markets are in turbulence.
China and Brazil established diplomatic ties in 1974 and set up a strategic partnership in 1993.
Brazil is China's major trading partner in Latin America. Last year, two-way trade reached 62.5 billion dollars. In the first nine months of 2011, the trade volume increased 37% against the same period of last year to 62.4 billion dollars
In addition to Rousseff, China's Hu also met IMF Managing Director Christine LaGarde Wednesday to discuss possible aid measures.