ECB under new president Draghi lowers interest rate 25 points to 1.25%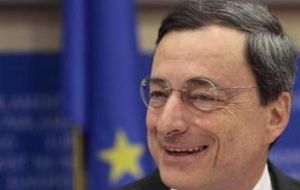 The European Central Bank cut its main interest rate by 25 basis points to 1.25% as the Euro zone's worsening debt crisis outweighed the concern over persistently high inflation.
The ECB also reduced the interest rate on its deposit facility to 0.5% and the rate on the marginal lending facility to 2.0%.
The cut marked a change in policy course after the ECB increased its rates in July and April, when it became the first major central bank to hike after the intensification of the financial crisis. Markets are now looking for hints whether the ECB is preparing to cut rates again next month.
It was also ECB President Mario Draghi first at a monetary policy meeting after taking over the reins on Tuesday from Jean-Claude Trichet.
Attention is expected to focus on other changes in the central bank's policy after the change of guard, especially whether its government bond program will be boosted.