If Greece leaves the Euro, it must also quit the EU, warns Brussels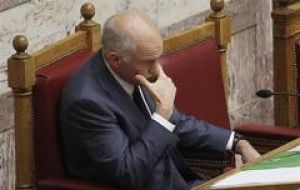 If Greece decided to leave the Euro, it would also have to quit the European Union, according to the terms of the EU treaties, the European Commission said on Thursday.
"The treaties indeed confirm what we have been saying here: the treaty doesn't foresee an exit from the Euro zone without exiting the EU, so indeed that is the current situation," European Commission spokeswoman Karolina Kottova said.
The comment was in response to a question about the provisions the EU treaties make for a country to leave the Euro, but the spokeswoman did not refer to a particular member state.
Greece's government is on the brink of collapse after Prime Minister George Papandreou shocked global policymakers and financial markets on Monday by proposing a national referendum on the country's bailout terms. Euro zone leaders made plain this would effectively be a referendum on the country's membership of the euro bloc.
Papandreou chaired an emergency cabinet meeting in Athens Thursday, with his finance minister in revolt against the plebiscite idea after the ultimatum from the leaders of France and Germany.
French President Nicolas Sarkozy and German Chancellor Angela Merkel told Papandreou at a meeting in Cannes that Athens would not receive another cent in aid until it votes to meet its commitments to the Euro zone. Greece was due a vital 8 billion Euros instalment this month.
The Commission said the place of Greece was within the Euro zone and there were instruments in place to ensure that.
"We see Greece within the Euro and the necessary instruments are in place and an agreement has been reached," Kottova told the Commission's daily news briefing. "So, as far as we are concerned, this is the only option that is on the table."
The EU treaty does not specifically foresee the possibility of a country leaving the single currency area, which now comprises 17 countries, although it does provide for the possibility of a country leaving the 27-nation European Union.
In article 50, the treaty says: "Any member state may decide to withdraw from the union in accordance with its own constitutional requirements."