October car sales in Brazil drop 10% surprising dealers and the auto industry
Friday, November 4th 2011 - 08:14 UTC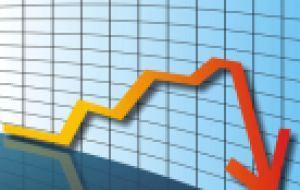 Car sales in Brazil dropped 10% in October compared to the previous month according to the country's dealers association, Fenabrave turning warning lights on for the global auto industry. This follows September's decline that affected all of Brazilian industrial production.
Brazilian dealers sold 280.608 vehicles in October, 7.4% less than the same month a year ago and 19% less than forecasted by Fenabrave since slower production was also helped by a calendar month with several national holidays.
In September Brazilian industrial production was down precisely because auto manufacturers faced with growing inventories temporarily closed down some plants or send personnel on vacation.
According to the latest data the Brazilian economy is rapidly contracting after having expanded 7.5% last year the highest in over two decades. Analysts have estimated the economy could grow a modest 3.3% in 2011, but could also decline further.
The deceleration news comes when the main European corporations that have grown globally propped by the Brazilian market are facing a tough competition from Asian rivals plus the fact the government is demanding new investments if they wish to avoid higher taxes beginning December.
Brazil with a population of 190 million and a 25% surge of the middle class in the last decade has become a crucial market for all global automakers. Among the corporations in Brazil are Italy's Fiat; Germany's Volkswagen; the US General Motors and Ford; Germany's Mercedes Benz.
Fiat kept the leadership of the market in October having sold 57.000 units, equivalent to 21.7% followed by Volkswagen with 53.300 units; GM totalled 49.800 and Ford, 22.700.