Russia to resume beef purchases from Paraguay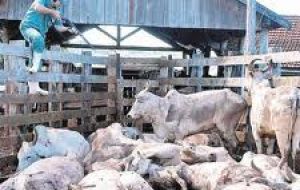 Russia has decided to resume purchases of Paraguayan beef and derivates following the foot and mouth disease, FMD, episode detected in an only farm last September and which according to Paraguayan sanitary officials was caused by a 'human error'.
Russia which is one of Paraguay's main beef clients only banned livestock from the San Pedro province where the outbreak was reported
Russia had banned all Paraguayan beef imports once the FMD outbreak was reported in the Santa Helena farm. The country's authorities proceeded to terminate 820 cattle and imposed several quarantine rings. No further outbreaks have been reported since.
Paraguay is a main exporter of beef and until September 18th had a status extended by the World Animal Health Organization as free of FMD with vaccination.
Paraguayan officials sent the FMD vaccine used in the inoculation and livestock blood samples, to test in two different labs in Argentina and Brazil.
"The vaccine quality was excellent and it was the normal FMD virus, no mutation was reported by any of the two sources", said Paraguayan sanitary officials.
Russia sent a special team of inspectors and vets to check Paraguayan procedure and finally approved this week the resumption of sales.
Likewise Brazil has sent its own experts for a similar evaluation.
In the first eight months of 2011, Russia was the main buyer having purchased 38.072 tons (162.3 million dollars) followed by Chile with 36.826 tons (221 million dollars).
However it is not clear yet how the Russians will be shipping the beef out of landlocked Paraguay since both Argentina and Uruguay have warned that no beef from a country with cattle exposed to FMD virus will be allowed to cross their territories.
Not until the Paris based OIE, (Animal Health Organization) which rules on the issue again extends Paraguay the status of free of FMD with vaccination, a process which can take from six to twelve months.